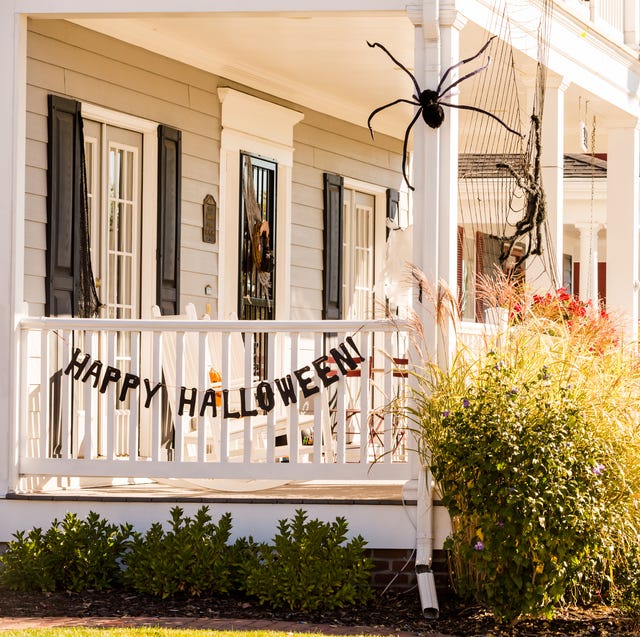 Between trick-or-treaters dressed to the nines and neighbors popping over for your annual Halloween bash, we have a feeling your house will be getting more than a little bit of foot traffic this October! That's why we've rounded up these boo-tiful outdoor Halloween decorations to help you keep it looking its best.
Sure, a jack-o'-lantern or two is nice—and certainly classic!—but haven't you already been there and done that? This year, it's time to step it up a notch in terms of both originality and spookiness. Whether you opt for something more traditional (think: a few painted pumpkins, pots of fresh fall flowers, and a fall wreath or two) or aim for something a little more advanced (a DIY array of festive lanterns could be nice, or a pair of eerie-looking "floating hats"), we can practically guarantee there's something on our list for you.
Not sure where to start? We've also made sure to include ideas that are suitable for crafting beginners and pros alike. Even if the holiday's just around the corner, you still have time to whip up a few of our very favorite outdoor Halloween decoration DIYs and get your porch into shape before the neighborhood kids stroll up to your front door!
1
Bookish Outdoor Halloween Decorations
Haunting book jackets make for a spine-chilling entrance. You can easily make these yourself using construction paper, some letter stencils, and a bit of gold craft paint.
Make the Books: Cut long, thin rectangular pieces of differing colored kraft paper or construction paper (we used red, gray, and black). Draw titles of books on the paper. Outline letters with gold paint pens. Fill in outline with paint pen or gold acrylic paint. Attach to door with double- sided tape.
SHOP CONSTRUCTION PAPER
2
Pumpkin General Store Porch Decor
This fully outfitted "mercantile" (of the front porch variety) features all your favorite general store standbys—penny candy, checkers games, homemade honey and jams—but in pumpkin form! Your trick-or-treaters won't be able to get over the creativity of this setup.
Make Pumpkin Checkers: Paint 32 squares on a large (roughly 30-inch) wood board with burnt orange craft paint. Use mini white and orange pumpkins as game pieces.
SHOP ORANGE PAINT
3
Broom Halloween Door Decorations
Pay homage to everyone's favorite Halloween character with this fun idea. All you need are a few vintage brooms and a witchy attitude to make it happen!
Assemble the Brooms: Drill a small hole in the handle of two large outdoor brooms. Hammer five small nails in front door. Hang two brooms, right sides up, through holes. Hang a third large broom and two small "witches' brooms" by threading the bristles over the remaining three nails.
SHOP BROOMS
4
Simple & Sophisticated Halloween Decorations
There's no need to go over the top with your outdoor Halloween decorations just because the neighbors did. Here, stately, elegant array of pumpkins spruces up the outside of this home beautifully. Meanwhile, a simple green garland decorates the front door.
SHOP FAUX PUMPKINS
5
Morgue Door Decorations
Front doors? More like "morgue drawers." This creepy idea will have all the kids running for the hills—and then running back for some candy.
Craft the Doors: Attach three precut 20- by 30-inch pieces of foam core together with spray adhesive. Attach a piece of black paper, cut to size, to the top piece of foam core using spray adhesive. Insert the rectangular piece of two 6-inch stainless steel T-hinges between the first and second pieces of foam core on one of the short sides; "screw" in place. Place a 6 1/2-inch handle on the opposite side; "screw" in place. Cover exposed edges of the foam core with silver duct tape, folding any excess to the back. Make two more doors. Adhere to house door with heavy-duty self-adhesive Velcro. Cut five coffin shapes from black and gray kraft paper. Paint letters on gray coffins with red acrylic paint to spell "morgue" and attach to black coffins with double-sided tape. Hang a plastic chain above the door and attach coffin cutouts with hot-glue.
SHOP RED PAINT
6
Festive Back Porch Halloween Decor
This Halloween set-up is so lovely, we'd leave it up all season! (Actually, that's the whole idea behind the back porch decor you see here.)
SHOP FAUX PUMPKINS
7
Candy Corn Door Decorations
Done properly, a simple candy corn front door design will be the talk of your entire block. You can have the kids pitch in to craft this one!
Craft the Door: Create a candy corn-inspired "quilt." Paint wide stripes, using acrylic paint (we used orange, mustard, cranberry, and gray), on thick artist's paper. Once dry, cut into equal-size triangles. Cut a 2-inch paper trim in a corresponding color. Attach to door using double- sided tape.
SHOP ACRYLIC PAINT
8
Black Ribbon Halloween Wreath
We're spooked in the best way by this black wreath. A witch silhouette in the middle keeps it perfectly on-theme.
Make the Wreath: Cut 150 6-inch-long strips of 2-inch-wide black grosgrain ribbon. Fold the strips in half and attach them to a 16-inch foam wreath form with straight pins, layering them on top of each other to create a ruffle effect. Cut out a silhouette of a witch from black kraft paper. Attach it to the center of a 16-inch round clear piece of acrylic with double-sided tape. Hot-glue the edges of the acrylic round to the back of the wreath form. Finish with a bow with long tails.
SHOP BLACK RIBBON
9
Seed Packet Halloween Door Decorations
Seed packets featuring fall produce add harvest charm to any front door. We love this idea for any country-dwelling family.
SHOP VINTAGE SEED PACKETS
There's something extra special—and extra eerie—about DIY yard decorations. You can customize these spooky signs any way you like!

Get the tutorial at The House of Wood.
SHOP WHITE PAINT

11
Retro Rustic Porch Decorations
Just because it's Halloween doesn't mean you have to treat your yard like it's the set of a horror movie! Stay original and keep things beautiful with Southwestern-inspired decorating ideas, which will keep your home looking pretty well into the fall season. Try filling a distressed crate with pumpkins (retro-inspired coolers work too!). You can also add a bouquet of fresh flowers to a plaid vintage Thermos, and paint pumpkins with Southwestern-inspired designs.
SHOP DISTRESSED CRATES
12
DIY Black Cat Wood Cutout
This black cat isn't just impressive because it's handmade (though that's a big part of the appeal). With distressed paint and a few purr-fectly placed, hair-raising details, it's also just a downright beautiful addition to your front porch.
Get the tutorial at The House of Wood.
SHOP BLACK PAINT

13
DIY Watercolor Night Sky Pumpkin
How's this for a showstopper? A watercolor painted pumpkin is a unique, stunning addition to any front porch—and it's oh-so-unexpected too.
Get the tutorial at We Lived Happily Ever After.
SHOP WATERCOLORS

14
Recycled Jar Jack-o'-Lanterns
Got some old spaghetti sauce jars lying around? Then you're halfway to creating this adorable vignette.
Get the tutorial at Not So Idle Hands.
SHOP MASON JARS

It doesn't get too much creepier than an all-black wreath. Give your guests a solemn welcome to any Halloween party with this fun DIY.
SHOP GRAPEVINE WREATHS
16
Pumpkin With Drilled Shapes
With drilled (rather than carved) pumpkins, your life is bound to be a hole lot easier. To make these fun designs, simply cut a hole in the bottom of a large pumpkin, then scoop out the pulp and seeds as you normally would. Next, mark your desired pattern with an erasable wax pencil. Using a medium drill bit, punch out a dotted outline of your image. Leave approximately the same amount of space between each hole, and you're good to go!
Get the template.
SHOP MEDIUM DRILL BITS

19
Glowing Halloween Candy Holder
This light-up candy display is perfect for homeowners who plan to venture out on Halloween, but still want to give out goodies.
Get the tutorial at The Creative Mom.
SHOP ORANGE LIGHTS

20
Rustic Farmhouse Outdoor Halloween Decor
Pumpkins, flowers, and a jack-o'-lantern (made from an old propane tank!) create a classic fall porch display.
Get the tutorial at Liz Marie Blog.
SHOP FLOWER POTS

21
Fall-to-Halloween Porch Decor
Some faux creatures—including bats, crows, and an owl—make this front door feel very alive.
Get the tutorial at House of Hawthornes.
SHOP FELT BATS

22
Monster Halloween Front Door Decor
Kids will get a kick out of this DIY scowling monster.
Get the tutorial at Modern Day Moms.
SHOP STREAMERS

23
DIY Trick or Treat Signs for Halloween
Welcome trick-or-treaters with these sweet signs.
Get the tutorial at Bless'er House.
SHOP PLYWOOD

24
Countdown to Halloween Outdoor Decor
Countdown the days until October 31 with this cute and clever DIY idea.
Get the tutorial at I Heart Naptime.

SHOP WOOD PLANKS

25
Simple Outdoor Halloween Decor
Keep your outdoor decor simple with pumpkins, lanterns, and a sassy black cat.
Get the tutorial at Driven by Decor.
SHOP LANTERNS

26
Mummy Halloween Front Door Decor
You'll be mummy of the year when you transform your front door into this watchful monster.

Get the tutorial at East Coast Creative.
SHOP GAUZE

27
Scary Halloween Candy Holder
Kids will have a blast tiptoeing up to this fortune-teller-themed Halloween candy dispenser.
SHOP LAMPS
28
Not Scary Outdoor Halloween Decor
Be cheery, not eerie, this year with bright colors and playful DIY accents.
Get the tutorial at The Happy Housie.
SHOP CHALKBOARDS

29
Outdoor Halloween Lanterns
An array of festive lanterns will create a warm and welcoming effect for guests.
SHOP LANTERNS

30
Galvanized Wash Tub Planters
Repurpose these vintage wash tubs for the perfect front door decor.
Get the tutorial at On Sutton Place.
SHOP WASH TUBS

White pumpkins will give your porch a classic feel this Halloween. Pair with a cute DIY sign to point people the way of the party!
Get the tutorial at Design, Dining, and Diapers.
SHOP WOOD PALLETS

32
Floating Witch Hat Luminaries
Light up the night with these magically spooky floating hats. Kids will love them!
Get the tutorial at Polkadot Chair.
SHOP WITCH HATS

33
Classic Country Halloween
Create a classic country Halloween vignette on your front porch by arranging hay bales, mums, pumpkins, and dried corn stalks around your steps. Fake spiderwebs add a not-too-scary touch.
SHOP BASKETS

34
Jack-o'-Lanterns in a Jiffy
Turn orange tissue-paper balls into proper Halloween pumpkins that can line your front porch. Simply cut facial features and stems from construction paper and apply to the balls with glue dots.
SHOP TISSUE BALLS

It doesn't get easier than this: Simply add felt bats to a natural twig wreath to give trick-or-treaters a friendly fright.
SHOP WREATHS

Even the DIY-phobic can make their porches a little more festive for trick-or-treaters by swapping in a new doormat and adding a fall-themed wreath, a bale of hay, and some faux hanging bats.
SHOP DOORMATS

Spooky black-and-orange decorations aren't your thing? Try this pretty alternative: Place white chrysanthemums and ornamental cabbage in cream-colored apple baskets on your front lawn, and surround with white pumpkins and gourds. (Note: For a similar look minus the danger, lanterns and jack-o'-lanterns should always be lit with battery-operated lights, like these LED votives.)
SHOP BASKETS

These felt bats are easy to make and ensure your house looks extra spooky. All you need to do is trace a bat shape onto a piece of felt and cut it out. Repeat until you have a swarm of them!
SHOP BAT STENCILS

Don't turn your hallowed-out pumpkins into jack-o'-lanterns just yet! Instead, plant fall mums inside for the perfect planters to lead guests up your steps.
Get the tutorial at 17Apart.

40
Decorated Tree Branches
Bare-limbed trees provide the perfect ghostly perch for jack-o'-lanterns, LED candle lanterns, and a flock of faux black crows. Make sure the tree limbs are sturdy enough to support the weight of the items you are hanging and take care not to over-decorate, which can lessen the overall effect. Funkins (Styrofoam pumpkins) are an especially good choice for this project, since they're lightweight and won't rot.
SHOP VOTIVES

Lure visitors with a spooky doormat.
Step 1: Purchase an indoor/outdoor needle-punch carpet. To turn it into a circle: Mark the rug's center point with a Prismacolor white-colored pencil. Measure and mark the distance from that point to a spot about half an inch from the rug's edge. Cut a piece of string to that length. Tie one end of the string to the pencil and secure the other end of the string to the rug's center point with a tack. Pull the string taut and draw a large circle onto the rug; remove the string. Cut out the circle, just inside the white pencil mark, with sharp scissors.
Step 2: Using a yardstick, evenly space and draw eight intersecting lines that cross the rug from edge to edge. Between those lines, draw arches around the mat, using our photo as a guide.
Step 3: Lastly, coat the rug with a clear finishing spray, like Krylon Make It Last Clear Sealer. to protect your web from trick-or-treating feet.
SHOP CARPET

42
Bottle-Gourd Scarecrows
Give trick-or-treaters and guests a festive first impression, framing the front door with these skeletal gourds. These bottle-gourd scarecrows were painted white, with features added in black felt tip pen. Just spear them on sticks and "plant" them in Styrofoam blocks inside urns to create a festive welcome to your Halloween home.
SHOP STYROFOAM BLOCKS

43
Spooky Skeleton Pumpkins
These carved pumpkins look as if they're reaching from beyond the grave in your front yard.
Step 1: Select a pair of pumpkins to form each arm-hand combo. Determine which gourd will serve as the arm (usually the taller one) and trim its stem so the other pumpkin can rest securely on top. Carve a hole in the bottoms of both, scoop out the pulp, and return the cut pieces.
Step 2: Print out our skeletal templates and resize on a copier, scaling the images to fit your pumpkins.
Step 3: Cut out stencils as directed on the templates and affix the arm stencil to the bottom pumpkin with masking tape. Trace on the design with a felt-tip pen. Repeat the process on the other pumpkin, using the hand template.
Step 4: Remove stencils, then carefully carve along the drawn lines with an X-Acto knife. Affix a battery-operated votive candle in the base of each pumpkin with adhesive.
SHOP VOTIVES

What's it take to achieve this shimmering display? Gourds, pumpkins, and a gilding kit! When all these metallic colors come together, your entrance will turn into one hot spot.
SHOP GILDING KITS

Spell out your greeting in mini pumpkins gathered on your porch.
Step 1: Pencil letters on hollowed pumpkins (carve out the opening from the bottom).
Step 2: Using a drill with a half-inch bit, bore holes to form each letter.
Step 3: Hang strings of Christmas-tree lights, gathered in small bunches, to illuminate each pumpkin (unscrew bulbs where the string descends to the next row).
SHOP HALLOWEEN STRING LIGHTS
46
Halloween Wonderland Set Up
Create a show-stopping Halloween entrance with fall leaves, pumpkins, and faux ravens.
SHOP HALLOWEEN STRING LIGHTS
This pretty porch makes use of its high archway with a web of bats that will delight any trick-or-treater.
Get the tutorial at The Crafting Chicks.
SHOP GAUZE

48
Black-and-White Halloween Topiary
Stack black and white Jack-o-Lanterns for an eye-catching twist day and night.
Get the tutorial at Tatertots & Jello.

SHOP PUMPKIN PAILS

Don't confine pumpkins to the ground: If your porch has a stable overhang, like the one pictured here, use a ladder to elevate your display by placing a few mini pumpkins overhead.
SHOP FAUX PUMPKINS
50
Creepy Crawly Spider Facade
Keep arachnophobes at bay by attaching giant furry spiders to your home's facade.
SHOP FAUX SPIDERS

Have a bench on your front porch? Seat a life-size skeleton (the one pictured is from Pottery Barn) there to greet guests as they approach your front door.
SHOP SKELETONS

Craft an oversize spiderweb above your front porch with clothesline style rope or by simply tying together strands of white Christmas tinsel garland. Don't have great DIY skills? Buy a giant spiderweb for your home on Etsy.
SHOP FAUX SPIDERS

Frame your door with reclaimed wood pumpkins for a one-of-a-kind welcome.
Get the tutorial at Infarrantly Creative.

SHOP WREATHS

Make a new canning-ring pumpkin look vintage with brown and orange acrylic paint and sandpaper.
Get the tutorial at Lolly Jane.

SHOP MASON JARS

Create this ultra spooky setup with long branches and tied-on ravens. Though fake, they look almost real enough to terrify the neighbors!

Get the tutorial at Create Craft Love.

SHOP MASON JARS

56
Easy Front Porch Decorations
Too busy to decorate for Halloween? Just set a few un-carved pumpkins out on your doorstep and arrange berry branches cut from your yard inside vintage tin buckets. Done!
SHOP TIN BUCKETS

57
White Chenille Pumpkins
These refined decorations in pure white add a touch of chic to any porch.
Get the tutorial at Erin's Art and Gardens.

SHOP MASON JARS

58
Miniature Thread Ball Pumpkins
These little pumpkins are so cute and simple—perfect for outdoor decor.
Get the tutorial at Thoughts from Alice.

SHOP MASON JARS

59
Picket Fence Countdown Sign
Made from picket fence pieces, this Halloween countdown sign is the perfect way to drum up excitement for the holiday. Use chalkboard paint where your numbers will go, so you can update it each day.
Get the tutorial at Priscillas.
SHOP MASON JARS