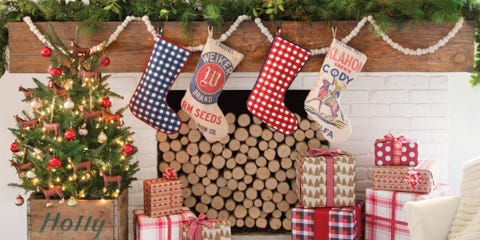 There's something especially magical about the understated beauty of December in the countryside. From brown paper packages to simple place settings, here are 36 ways to have yourself a beautifully merry (and blessedly unharried) holiday. 'Tis a gift to be simple!
Decorate with festive tartan.
Blogger and Connecticut homeowner Nora Murphy infused her home with holiday charm using tartan blankets as tablecloths, plaid dishware in her tablescape, and buffalo check blankets in her bedroom.
Get the look: Tartan blanket ($23 each, )

Add a touch of green year-round by installing forest green lamps on the exterior of your home or barn, then dress things up for the season: Outfit a drape of greenery with lights, ornaments, or berries. Finally, use what you've got: Stash plain , pots, and pails with and bedecked with .
Get the look: Carson L-Arm Fixture ($499; ); Jolly Holiday Cordless Garland ($229, ); Christmas wreath with cordless LED lights ($95, )
Attend a small-town parade.
Move over, Macy's! We love the pomp and circumstance of the big-city pageantry but, to us, nothing signals the start of the season—or shows off the heart of a small town—quite like a quaint Christmas parade. The excitement is everywhere, from the moment the homemade floats find their places. Folks happily take a break from the hustle and bustle the season brings. They slow down. They gather. They bid one another well. Year after year, along the never-changing route, Boy Scouts wave and toss out candy while little ones scramble to scoop up a treat or five. The local marching band cheerfully bears the cold, performing for friends and families huddled together. This year, don your and and hit Main Street to welcome the season the small-town America way.
Tired of popcorn? Thread marshmallows with for a sweet update.
What you'll need: Red-and-white baker's twine ($6, )
Hang a grain sack, seed sack, or gingham stocking—they're just waiting to be filled with delicious dry goods.
Get the look: Burlap grain sack stocking ($23, ); Gingham stocking ($12, ); Ticking stripe stocking ($35, ); Feed sack stocking ($69, )
$50
This crate of fire starters—formed from natural resin—is a simple way to get a holiday glow.
Add rustic charm to a card display.
Show off the influx of season's greetings on a vintage tobacco basket by tucking well wishes into the overlapping strips of reed. (For old baskets, try , , or CL Fair vendor ). And if you want your good tidings to stand out from the pack, try one of these customizable holiday card options...
$69 for 50 double-sided custom cards

Give your furry best friends starring roles on this year's Christmas card!

$70 for portrait and $2.30 per card
Artist Kristen Rosas draws inspiration from family photos to make custom gouache cards.

Showcase your little one's artwork.
$2 each
Commemorate the work of your budding artist.
$2 each
Paper & Parcel turns snaps of pets into howl-arious cards. ("Feliz Navidog" also available.)
Set a festive (not fussy) table.
Look no further than your backyard for the makings of a pretty table runner, then add a pop of plaid with a classic tartan tablecloth. For a whimsical place setting, slide good old handwritten name cards into the slots of (we found these ). Use candles in and —both help to reinforce the warm, magical vibe.
Get the look: Ronan plaid tablecloth ($40, ); Blue salad plates ($18 each, ); Large Mason jar ($12, ); Pillar candles ($7, ); Rose gold silverware set ($66, )
Say what you will about the convenience of an artificial tree, but there's nothing like holiday decorating from the ground up. So pile into the station wagon (or your family's equivalent) and go on a hot cider-fueled pursuit of this year's specimen. As is true for most family outings, good-natured arguments will ensue (That one's too wide! Why, why are we walking so far? Mom, put down the axe!), but all will be forgiven by the time that one-of-a-kind fir finds its way home. And after Dad hauls down the ornaments from the attic and you go to hang that clay handprint from 1972, you'll be reminded that family, like the "too-wide" tree and its humble homemade trimmings, is perfect in its imperfection. Take that, plastic.
Stack a Mason jar Christmas tree.
This idea's perfect for a mantel or entry table: Fill six like-sized with ornaments, tinsel, greenery, you name it. Assemble the jars in a pyramid, then wrap it with a shiny garland and top with a star. Done!
Get the look: Blue Ball Mason jars, ($10 for 4, )
Hang a wreath made out of...
...pinecones, wood, pom-poms, bells, paper, a wagon wheel, or rope! Or make your own metal bow accent, courtesy of this tutorial from .
Get the look: Pre-decorated gold pine cone wreath ($120, ); 20-inch laser-cut leaf wreath ($22, );Jingle bell wreath ($118, ); Succulent wreath kit ($23, ); Juniper garland ($43, ); Wagon wheel ($25, ); Starburst twig wreath ($48, ); Rope wreath ($50, ); HVAC foil tape ($8, ; Aluminum flashing ($9, )
Top the tree with punched tin.
$18
From ornaments to garlands, punched-tin pieces are galvanizing to become this season's hottest holiday trend. Made of antiqued sheet metal, this star scores tons of style points.
Dress up brown paper packages.
$14 for one 10-yard roll
Our new favorite thing? This fluffy twisted wool string. Available in 12 colors, it's the perfect, happily humble finish to kraft paper-wrapped presents.
Yet another reason to spring for the next you run across at the antiques store: It makes for a beautiful centerpiece (or menorah). Fill the wooden bowl with floral foam, insert candles (we love the simplicity of plain old white), and nestle seasonal greenery in between the tapers.
Get the look: Dough bowl ($18, )
Prepare a Christmas Day breakfast.
Blame it on the hurried pace of our hyper-connected world, but the sit-down breakfast, it seems, has fallen out of favor. Let's change that. This year, on Christmas morning, after the gifts are unwrapped and the shiny new bikes make their inaugural trips down the driveway, assemble your family around the table to revive the lost art of a leisurely country breakfast. Just promise us this: Between bites of sugar-cured bacon, pause, for a second, to sop up this delicious moment, when the humans you hold most dear are gathered, together, around the table, breaking flaky, buttery bread. This, this sunny-side-up moment is what matters. The rest—the tree, the gifts, the bikes—is just gravy.
Shop at an old-fashioned country general store.
The spirit of the old-fashioned general store lives on, thanks to newcomers like Laurel, MS' and Pawhuska, OK's . Plus, they're great resources for distinctive gifts!