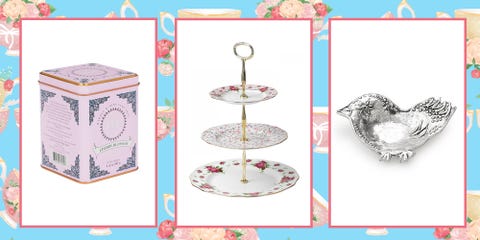 Welcome to The Check List, Ikaroo.info's bimonthly roundup of completely fun no-obligation ways to enjoy the country. In a world of endless options, consider this your complete snapshot of must-haves.

Getting mom a thoughtful gift is always encouraged, but May 13th calls for something special! Celebrate her day with an afternoon steeped in tradition: Set the table, break out the china, and treat your mom (and the other special women in your life!) to a homemade high tea party for Mother's Day.
$69
The wonderful thing about tea parties is that the food should be small and simple, so you can set a seemingly lavish spread with minimal effort. Arrange your finger sandwiches on a tiered space-saving stand from Royal Albert.

$36
Your afternoon tea forecast calls for sunny skies that give way to a long night of talking, laughing, and reminiscing. Keep each cup hot with this handy glass teapot warmer that also serves as a glowing gold focal point.
$6
Try stocking up on tea that comes in a tin can to complement your spread. Ring in spring and pick a brew that smells as good as it looks, like this cherry blossom charmer.

$32
If your soiree is outdoors, make sure to keep mom's shoulders warm with a light scarf she can throw on if the breeze picks up.

$68
At afternoon tea, presentation is everything. You're probably already getting flowers for mom, but why not try a bouquet that serves double duty? This pretty arrangement makes for a gorgeous tea party centerpiece that she can take home once the afternoon is over.
$59
Herbal, black, green ... whatever tea mom likes, make sure it's poured into a cup she'll simply adore.

$15
The only puckering this party needs is the kind mom lands on your cheek! Avoid the bitter taste from leaving a steeping a tea bag for too long by providing guests with a sachet rest.
$7
Who said that "pinkies out" meant no paper plates? Make clean-up easier with these adorably dainty disposables.

$18
Lay your pot o' hot tea on an embroidered napkin that mom can hang in her kitchen year-round! This one is adorned with icons to remind her of your afternoon together.
$28
No tea party is complete without a few silver spoons! Jazz up your fancy-but-not-too-formal affair with this stunning set.
$17
As an alternative to a Mother's Day card, Happy Day is a "flip-up" book that turns into a vase full of (paper) flowers. You can set it on the table once she's done reading!
13
Pink Champagne Truffles
$25
Keep the love of all-things miniature going when the party's over by sharing these strawberry truffles as party favors. Pick a few in your mom's favorite flavors to take to-go.