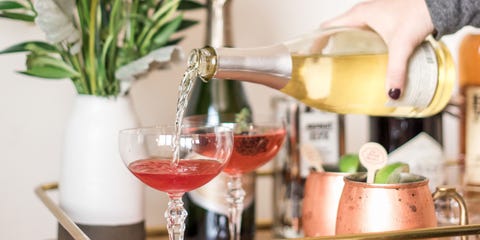 Bridal showers are a fun pre-wedding tradition. But the thing about traditions is that they repeat, bride after bride. As times change, customs can become a bit dated. Take bridal shower gifts: These days, couples are getting married later, meaning they have less of a need for what were once practical presents.
Enter the stock-the-bar bridal shower. Instead of that slow cooker you already own, why not let guests buy you a and fill it with and to last your first year as a married couple?
"This new-to-the-scene trend started in the South and is emerging among millennials as a fun and practical alternative to the traditional bridal shower," says Jacki Strum, founder and CEO of , a registry service created specifically for this purpose.
Leave it to Southerners to come up with a clever, non-stuffy spin on the standard shower. We've heard of stock-the-bar parties before, but we love that the trend is catching on. The best part? If someone goes off-registry but stays on-theme, chances are they'll still get you something you'll actually use. Here's how to host your own.
Register for Wine, Sprits, and Decor
Whether you register on ThirstyNest or another site, Strum recommends including a variety of vintages—some for weeknights and others for special occasions (hello, anniversaries!). Naturally, select liquors you like (what spirits are in your go-to cocktails?), versatile mixers like vermouth and bitters. And don't forget decor. Consider things like , cocktail recipe or , and the cherry on top of your stock-the-bar bridal shower registry.
Include Cocktail Tools and Storage, Too
Go beyond the booze to consider which containers will hold your liquors (a , , etc.?), and how you'll concoct your cocktails (think such as shakers, jiggers, stirring spoons, and muddlers). You can also register for big-ticket items such as a or , which make great group gifts.
Invite Friends and Family
Let them in on the theme from the very beginning with special stock-the-bar-themed invitations from .
What better decor for a bar-themed party than an ? Make sure whoever hosts has a suitable setup.
A vase of carnations here and there can make a big statement, as proven by these blooms from . So can funny cocktail napkins, like these designs that say, "You're the wine that I want."
Cheers with Signature Drinks
What's a stock-the-bar party without a couple of beautiful, refreshing cocktails? We have dozens of drink recipes worth toasting to.
Make It a Couple's Shower
This type of fête is fit for guys and gals alike. You can even offer his-and-hers concoctions.

Credits for all (except invitations image):
Photography:
Styling:
Wine, Spirits, and Barware:
Flowers:
Napkins and Stir Sticks:
Cheese & Charcuterie: