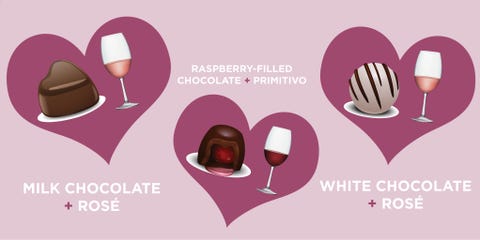 $17 for 3
Amp up your favorite milk chocolate with this bubbly rosé.
Tasting notes: Rose petal, strawberry, and watermelon
$13

This delectable combination works because the syrah complements the similarly rich dark chocolate.
Tasting notes: Coffee, dark chocolate, and red cherry
3
Bittersweet Dark Chocolate + Carignane
$23
If your taste buds are craving savory and slightly sweet, sip this wine alongside bittersweet dark chocolate.
Tasting notes: Clove, pink pepper, and pomegranate
$17
The creaminess of white chocolate allows the wine's floral and citrusy notes to pop.
Tasting notes: Lemon rind, pink grapefruit, and rose
5
Chocolate Truffles + Pinot Noir
$18
Offset a decadent chocolate truffle with a nice light pinot noir.
Tasting notes: Cherry, clove, and oak
6
Raspberry-Filled Chocolate + Primitivo
$18
Bite into a raspberry-filled chocolate while sipping on this sweet-meets-spicy variety for the ultimate experience.
Tasting notes: Baking spice, cherry, and mint
7
Dark Chocolate with Almonds and Dark Cherries + a Red Blend
$23
Prefer your chocolate packed with dark cherries and almonds? Opt for an earthy and fruity red blend to please your palette.
Tasting notes: Anise, black cherry, and cocoa
8
Chocolate with Peanut Butter + Cabernet Sauvignon
$18
If your favorite chocolate treat is Reese's Peanut Butter Cups, then wash a pair down with a glass of this cabernet sauvignon.
Tasting notes: Black cherry, oak, and spice.
9
Chocolate with Hazelnuts + Gamay
$13
This easy-to-drink red wine marries herby and fruity flavors—both of which balance the nutty taste of your favorite hazelnut chocolate.
Tasting notes: Pink pepper, red cherry, and rhubarb