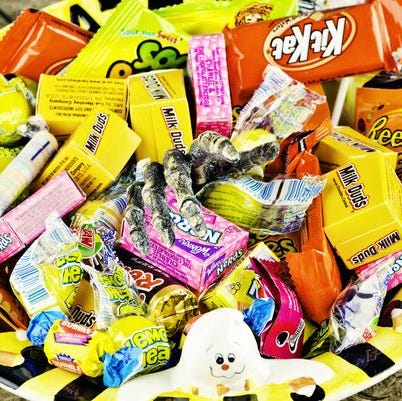 Even if it's been years since you've gotten dressed up and gone trick-or-treating—besides going with the kids, of course—you'll still appreciate this list of the best Halloween candy of 2019. It can be hard deciding what to fill your Halloween candy bowl with year after year, especially since candy popularity can change, and all of the enticing options at the store can be overwhelming. And although all of these confections are available every day of the year, there's still something special about unwrapping a treat—or three—on Halloween. (Let's face it: Just about every parent out there digs into their little one's candy stash when they're not around!)
As you scroll through our picks, you'll notice the option to purchase each type of candy featured, so you don't have to wait until Halloween to eat your favorite childhood snack. In fact, you might want to think about ordering these treats early on in the month so you can enjoy them while you're making Halloween crafts, putting together your Halloween costume, or decorating pumpkins with the family. No matter what your candy preference is, there are tons of different types of sweets on our roundup of the best Halloween candy to give out, including Skittles, Reese's, Snickers, and much more.
Milky Way bars feature a heavenly combination of nougat, caramel, and chocolate, so it's no wonder why they're at the top of our list. For dark chocolate lovers, the brand also released a "midnight" version.
For those who aren't fans of chocolate, Skittles are most likely at the top of your list. Who doesn't want to taste the rainbow?
When it comes to candy corn, you either hate it or love it. If it's your favorite, you can also try the pumpkin-shaped version of the treat that we think is even more appropriate for Halloween.
4
Reese's Peanut Butter Cups
Chocolate and peanut butter is a match made in heaven, and no one does it better than Reese's. There's also plenty of other delicious iterations, like white chocolate and dark chocolate.
Satisfy your candy craving with the classic crowd-pleasing Snickers bar. If you can't get enough, try the almond, hazelnut, and peanut butter options.
Sometimes new versions are even better than the original. In this case, it's the all pink bags of Starbursts. (Admit it: Aren't you a tiny bit disappointed when you open the pouch to find mostly oranges and yellows?)
Take a trip around the world and you'll find Kit Kat bars in just about every flavor you can imagine. Some of the more interesting varieties include peach mint, orange, and salt and lemon.
For a playful twist on the traditional, try Twizzlers Pull 'n' Peel. Of course, there's nothing wrong with good old strawberry.
Twix is another beloved treat that's offered in several different versions that still feature the layers of chocolate, cookie, and caramel. If you're in the mood to mix it up for your trick-or-treaters, stock up on peanut butter, white chocolate, or triple chocolate options.
Once again, the peanut butter and chocolate combo prevails. In January 2019, Nestlé released an "improved recipe" that promises "even more delicious taste."
When in doubt, go with one of the most iconic candies of all time, aka "The Great American Chocolate Bar." Fun fact: The very first bar was sold way back in 1900!
This taffy-like candy is always popular with trick-or-treaters. For those who prefer some sour with their sweet, try AirHeads Xtremes.
Although the current product is a single bar made of whipped nougat covered in chocolate, the original version was actually three bars in chocolate, vanilla, and strawberry flavors. This is where the candy gets its name, which was inspired by the novel The Three Musketeers.
How can you make Tootsie Rolls even better? Put them inside a lollipop, of course.
Although there's nothing like a homemade caramel apple, sometimes we're in the mood for a treat that simply needs to be unwrapped to enjoy. Behold: Caramel Apple Pops.
Does eating Nerds make you smarter? We're not sure, but they're definitely delicious. (Can you really just have one box?)
Unlike many chocolate bars that are available in different varieties, Baby Ruth just comes in its original, classic version that was introduced in 1921.
It seems like M&M's is constantly releasing new flavors. A few of the other popular options include peanut butter, caramel, and pretzel.
The tagline of Sour Patch Kids perfectly describes the taste. "Sour. Sweet. Gone."
People have been unwrapping Tootsie Rolls since 1907, when the taffy-like chocolate candy was first introduced. All these years later, the original flavor is still beloved, but the fruity alternatives are also well liked.
Some like it hot! And those people are the ones who eat Hot Tamales.
Smarties have always been a Halloween candy bowl staple, and with good reason. They're fairly inexpensive and aren't too sweet tasting.
Although there's only one Almond Joy, the candy bar does have a similar sister product called Mounds. The latter is made with dark chocolate and doesn't contain almonds.
If you love the fruit flavor of Jolly Ranchers, but aren't crazy about the hard candy, there are a ton of other options. You may also enjoy the lollipops, chews, and jelly beans.
Blow Pops will always be a crowd-pleaser—who doesn't love a fruity, bubble-gum filled lollipop?