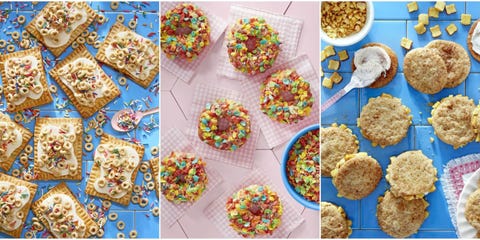 Life's too short to eat cereal for breakfast every day! From scones to pancakes, these sweet dishes are guaranteed to turn you into a morning person. Here are some of our favorite ways to switch up your morning routine, along with Samantha Merrit's, the blogger behind .
1
Fruity Pebbles Doughnuts
It's doughnut time! Trade sprinkles for this rainbow-colored cereal this time around.
2
French Toast Crunch Snickerdoodle Sandwiches
If these cookies are made with cereal, that means we can eat them for breakfast—right?
3
Honey Nut Cheerios Turnovers
These party-ready turnovers are sweeter than honey.
4
Blueberry Cream Cheese Muffins
They look like ordinary blueberry muffins… until you take a bite and find a cream cheese surprise.
Get the recipe at .
5
Triple Stack Donut Cake
If doughnuts are an acceptable breakfast food, so is this cake.
Get the recipe at .
6
Cannoli Stuffed French Toast
Take French toast to the next level with fluffy, sweetened ricotta cheese.
Get the recipe at .
These chocolate scones, which are packed with semisweet chocolate chips and cloaked in a rich chocolate glaze, are a chocolate lover's dream.
Get the recipe at .
8
Peanut Butter Chocolate Chip Pancakes
Who could say no to a chocolate-and-peanut butter breakfast? No one, that's who.
Get the recipe at Sugar .
9
Brownie Batter Breakfast Bake
This heavenly dish is easy to make, super chocolatey, and individually sized. (Pssst: It's also vegan!)

Get the recipe at .
10
Peanut Butter Filled Chocolate Muffins
This rich chocolate muffin is studded with semisweet chocolate chips and filled with a peanut butter cream cheese filling. We'll take two!

Get the recipe at .
11
Double Chocolate Dutch Baby with Vanilla Bean Whipped Cream
This warm chocolate German pancake is topped with whipped cream—and hard to resist.
Get the recipe at .
12
Funfetti Cinnamon Rolls
Light and fluffy, these Funfetti Cinnamon Rolls are a breakfast-time celebration treat.
Get the recipe at .
13
Raspberry Cream Cheese Coffee Cake
There's regular coffee cake… and then there's this coffee cake, filled with raspberries and cream cheese.
Get the recipe at .
14
Dark Chocolate Waffles with Ganache and Strawberries
Any day that starts with this much chocolate for breakfast is going to be a good day.
Get the recipe at .
15
Baked Snickerdoodle Doughnuts
Snickerdoodle cookies may not be acceptable for breakfast, but surely there's nothing wrong with a snickerdoodle doughnut, right?

Get the recipe at .
Leave those dry, crumbly scone recipes in the past, and try out these delectable Bananas Foster scones.

Get the recipe at .
17
Chocolate Crepes with Peanut Butter Marshmallow Filling and Caramelized Bananas
This breakfast dessert is filled with flavors of chocolate, bananas, and peanut butter that will be sure to satisfy your sugar cravings.
Get the recipe at
18
Blueberry Breakfast Cake
Soft, sweet, and packed with blueberries, this melt-in-your-mouth blueberry cake is the most acceptable way to eat cake for breakfast.
Get the recipe at .