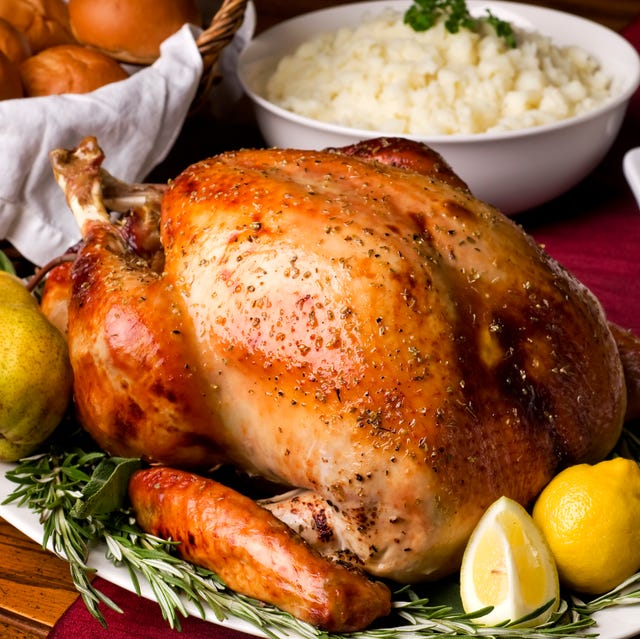 The temperatures are dropping and the leaves are changing colors, so you know what that means—it's time to start planning your Thanksgiving dinner. For those who've hosted the annual event before, you know all too well how much work goes into pulling off such a big, important meal, since there are seemingly countless dishes to prepare. And when the stress starts rising, you may catch yourself humorously thinking, "Which restaurants are open on Thanksgiving?"
After all, the roasted turkey often needs to be started a few days in advance, because frozen birds need time to thaw. When you get to Thanksgiving day, it's always a race to the finish trying to ensure all the dishes get done in time—and at the same time—like sweet potatoes, green bean casserole, cranberry sauce, and other popular side dishes everyone is expecting. Of course, we can't forget about all the homemade desserts. Whether you're serving a selection of pies, a few batches of cookies, or even one big cake, the treats must be ready by the time everyone's done with their meal—and many desserts take lots of time and patience. And you simply cannot skimp on serving some type of treat—after all, it's it's not a Thanksgiving feast without a sweet ending.
Now, if just the mere thought of making dinner has you feeling anxious, there's an easy solution you've already half-joked about before. Instead of running around the week of Turkey Day, you can skip all the stress and let someone else do the cooking for you. Imagine: A totally chaos-free meal with no dirty dishes! Yes, it can absolutely happen thanks to these restaurants open on Thanksgiving. So when November 28 rolls around and you just don't feel like turning on your oven, that's totally fine. There are plenty of establishments keeping their doors open so you can enjoy a tasty, traditional dinner without all the work, and we've pulled that list together right here. (We've also included the restaurants that will be closed on Thanksgiving day.)
In the mood for some classic comfort food? Head on over to your local Bob Evans—they're keeping their doors open.
For those who prefer steak over turkey on Thanksgiving, you're in luck. The Brazilian steakhouse will be open, though specific hours will be announced at a later date.
Open: Fleming's Prime Steakhouse & Wine Bar
Enjoy a steak at Fleming's on Turkey Day. All restaurants will be open from 11 a.m. to 8 p.m. There will be a three-course menu offered, though details have yet to be announced.
Thanksgiving is Cracker Barrel's busiest day of the year. Fun fact: The restaurant actually serves Thanksgiving dinner every Thursday (ask for the Thursday Turkey N' Dressing special).
On Thanksgiving Day, every location is open during regular hours (6 a.m. to 10 p.m.) preparing dine-in meals as well as several carryout options.
You might as well call this restaurant chain "Thanksgiving Market," because it's pulling out all the holiday stops. Nearly all locations will be open and serving up a full Thanksgiving meal, though menu selections and hours may vary.
Here's a restaurant you can always count on. Denny's is open all day, every day of the year, so you can get breakfast, lunch, and dinner on Thanksgiving day.
Closed: The Cheesecake Factory
Although all locations will be closed on turkey day, you can still enjoy the restaurant's famous dessert in the comfort of your own home. All you have to do is pre-order your favorite flavor and pick it up before November 28. The seasonal offerings, which are pumpkin cheesecake and pecan cheesecake, will be available on September 1.

Sorry, seafood lovers—you'll have to get your fish fix somewhere else. All Red Lobster restaurants will be closed for the holiday.
In the mood for Italian? You'll have to find a different spot. Olive Garden will be closed on Thanksgiving, so you better get your fill of endless soup, salad, and breadsticks ahead of time.
Closed: Outback Steakhouse
We're very bummed there won't be any Bloomin' Onions on our dinner table. All Outback Steakhouse locations will be closed.
Closed: Carrabba's Italian Grill
Choose another time to eat at Carrabba's. The Italian Grill will be closed on Thanksgiving Day.
Closed: Noodles & Company
Slurp down noodles another day. This fast-casual eatery won't be open on Thanksgiving or Christmas.
The seafood restaurant is closed on Thanksgiving.
The American chain is open all holidays except Thanksgiving Day and Christmas Day.