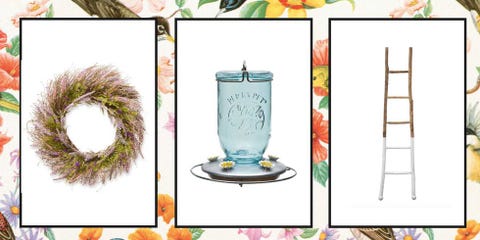 Welcome to The Check List, Ikaroo.info's bimonthly roundup of completely fun no-obligation ways to enjoy the country. In a world of endless options, consider this your complete snapshot of must-haves.
We may have a few more weeks of winter, but spring is just around the corner. Here are a few of our freshest picks to help spruce up your home for the season ahead.
$60
A single-flower statement can go a long way. Welcome guests with a whimsical lavender wreath that will pop against any front door.
$20
Liven up your living room! This pillow is bursting with vibrant florals, so you don't need to worry about picking up fresh stems each week.

$45
There's nothing like a long winter to make you—and your pup— pine for the great outdoors again. Hang this charming print on your wall as a friendly reminder to go outside and get some fresh air with your best bud.
$140

Brighten up your home with a bold rug that brings texture and color into any space.
$68
Nothing says spring quite like a bouncing bunny! Create a fun Easter spread with this white-tipped rabbit cheese board.
$4
Get your Little Bo Peep on and give your kitchen drawers an instant upgrade, with these versatile knobs in a timeless print.
$42
From rhubarb to strawberries, so many delicious fruits come into season during the spring. So fill up you basket at the farmers' market and bake yourself a pie (and serve it in the sweetest of dishes, of course!).
8
Turquoise Hen Paper Towel Holder
$36
Longer days mean your hens are ready to start laying! Celebrate your favorite chick indoors with a paper towel holder that's both functional and cute.
9
Mint Plastic Disposable Flatware
$10
Spring brings porch parties, weekend brunches, and Easter gatherings! Feast your eyes on the prettiest pastel flatware you and your guests will ever see. They're disposable, but we're sure you'll have a hard time parting with these beauties.
$88
Late on planting your bulbs this season? Let this beautiful planter be the inspiration for your next bloom.
11
Mason Jar Hummingbird Feeder
$31
Give the hummingbirds in your area a pretty place to flock, perch, and eat with this vintage-inspired blue glass Mason jar feeder!
$76
A blanket ladder is a charming and sensible way to store your throws during the warmer months. This one is white-dipped with gorgeous wood-grain details for an elevated touch.
$80
Once you're done with the annual clean, the fun begins! Find cute storage solutions, like this linen basket, to keep your home tidy year-round.