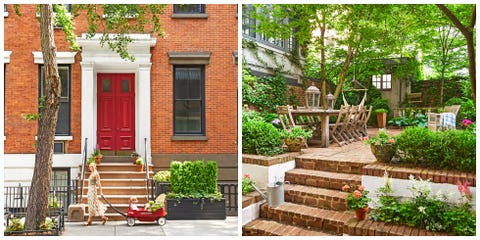 In a city known for its "king of the hill" hustle and "doesn't sleep" pace (thank you, Frank Sinatra), not to mention that iconic panorama of densely packed skyscrapers, it's easy to assume that cultivating a garden, baking for neighbors, hosting backyard parties, and other seemingly pastoral pursuits just aren't possible. That is, until you visit the tree-lined, cobblestoned streets of Greenwich Village.
The promise of an Arcadian oasis in the concrete jungle recently lured a writer (who prefers to remain anonymous) and her family from an "urban-feeling" Lower East Side loft to a 19th-century town house with "a nostalgic, English country vibe. The two-story, 2,500-square-foot apartment came with a cottage-like kitchen, herringbone floors, and its own movie star lore: Legend has it that Lauren Bacall and Humphrey Bogart once called it home.

Silver screen stories aside, what really sealed the deal for the family of three was the apartment's storybook-worthy walled garden that includes magnolias, wisteria, and hydrangeas. It's a coveted patch of quiet, where the occasional chime of church bells on the hour has a country-esque charm.

Sconces and a bamboo ladder warm up more industrial shelving in this work-live space. A gallery wall of family art reinforces the thoughtful, layered approach.
SHOP BAMBOO LADDERS

After a few "antique fails"—some chairs were uncomfortable, others too fragile—repro French seating proved the right solution for the farm table from the Paris Clignancourt flea market. Antique china fills the built-in hutch in this relaxed dining room.
SHOP FRENCH DINING CHAIRS

Brick walls, butcher-block countertops, beadboard, and enamel-finished metal cabinets evoke an English cottage vibe in the kitchen without veering into twee territory. Rhubarb crumble is a frequent crowd-pleaser.
SHOP BEADBOARD

This street-level mudroom provides a cheerful welcome thanks to mint green paint on the built-in bench and a sweet Shaker-style peg rack.
SHOP MINT GREEN PAINT

In the master bedroom, a large-scale "Hydrangea" wallpaper adds graphic punch alongside floral bedding and a plaid blanket from The Great English Outdoors in Wales.
SHOP YELLOW WALLPAPER

The little girl's dreamy bedroom features "Lou's Garden" wallpaper and a dollhouse custom-built by Mom. An Anrey table and stools comprise the crafting corner.
SHOP BLUE WALLPAPER

Just off the kitchen, which connects to the garden, a pair of mom-and-tot rockers are surrounded by climbing vines, weathered terra-cotta pots, and a stash of firewood that, come winter, feeds the home's working fireplace.
SHOP ROCKING CHAIRS

The picture-perfect backyard encourages ample romping when the family isn't out and about exploring the Union Square farmers' market or enjoying the bubbles and folk singers in Washington Square Park.
SHOP WATERING CANS

The family says having access to a shaded 350-square-foot outdoor space has changed their outlook on city living. The table was a Craigslist find; the chairs are from Ikea.