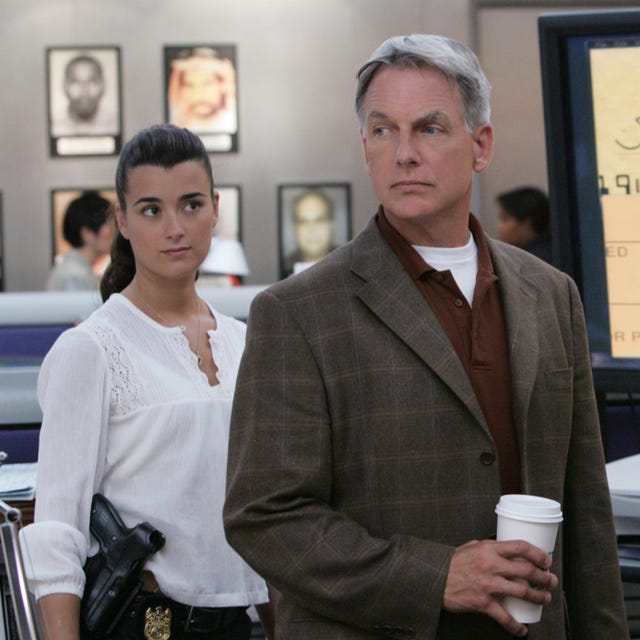 NCIS has aired so many incredible episodes throughout its 16 seasons. The CBS drama, which began in 2003, currently stars Mark Harmon, Sean Murray, Wilmer Valderrama, and Emily Wickersham, but some of its most popular characters were played by Cote de Pablo, Michael Weatherly, and Pauley Perrette.
Though it seems impossible to narrow down a list of favorites from the 379 installments, there are a few storylines that stick out as the most memorable. Like Ziva's exit, rumored death, and miraculous return, for example. Or when the group came face-to-face with some of the most notorious criminals ever seen (remember the Port-to-Port killer?). And don't even get us started about DiNozzo's and Abby's exits, lest you want to see us ugly cry for several minutes hours.
We still have a few months before season 17 premieres, so we suggest using this list of best NCIS episodes ever to hold you over until the time comes for Gibbs, McGee, and the rest of the team to liven up our Tuesday nights again. Warning: Once you start, you may find that you can't stop until you binge-watch every minute.
Season 2, Episode 23
amazon.com
Fans apparently flooded the internet message boards in fury after discovering Caitlin Todd's (Sasha Alexander) fate in this suspenseful segment.
Season 8, Episode 24
amazon.com
The Port-to-Port killer's finale will leave you on the edge of your seat as you try to figure out what will happen next, and if the NCIS can actually come out on top.
Season 3, Episode 1 and 2
amazon.com
Kate's shocking death sends the entire unit on a manhunt for Ari Haswari (Rudolf Martin). The back-to-back episodes also introduced the world to Ziva for the first time.
Season 5, Episode 7
amazon.com
Gibbs agrees to help the friend of his late daughter, but things quickly turn dangerous. You should likely prepare to cry and/or yell at the TV.
Season 2, Episode 7
amazon.com
A Medal of Honor recipient shocks the team when he confesses to murdering his friend nearly 60 years ago.
Season 3, Episode 8
amazon.com
Things between Ziva and DiNozzo heat up when they go undercover as married assassins. All we can focus on is their chemistry, but their mission of stopping a murder at the Marine Corps ball is also watch-worthy.
Season 10, Episode 11
amazon.com
Ziva's estranged father Mossad Director Eli David, played by Michael Nouri, pays her an unexpected visit that has a lasting impact.
Season 9, Episode 24
amazon.com
Jamie Lee Curtis joins the NCIS ranks as they search for Vance (Rocky Carroll), who has suddenly disappeared.
Judgement Day Parts 1 and 2
Season 5, Episode 18 and 19
amazon.com
These two episodes completely changed the course of NCIS history. We'll let the rest of Jenny's (Lauren Holly) journey speak for itself.
Season 7, Episode 1
amazon.com
$19.99
The NCIS struggles to cope—and find a replacement—after Ziva leaves. They fear she may have died, so they embark on a revenge mission that does not go smoothly.
Season 11, Episode 24
amazon.com
Gibbs heads to Stillwater after his father's death, while the rest of the team investigates a prison escape that brings them face-to-face with an old enemy.
Past, Present, and Future
Season 11, Episode 2
amazon.com
Ziva's final moments (or at least, what we thought were her final moments), were spent locking lips with DiNozzo, and honestly it's worth watching all 60 minutes just to experience "Tiva" at its finest.
Season 14, Episode 24
amazon.com
Jennifer Esposito and her character, Alex Quinn, say goodbye to the series in this episode that follows Gibbs, McGee, and Torres as they search for a missing Navy SEAL.
Season 13, Episode 24
amazon.com
DiNozzo's exit was jam-packed with mystery and new revelations about the love of his life, Ziva, and the child he didn't know the two shared.
Season 15, Episode 1
amazon.com
Season 15 kicked off where the dramatic season 14 finale left off: With Gibbs and McGee in serious danger after getting captured by the Revolutionary Armed Council in Paraguay.
Season 15, Episode 22
amazon.com
Abby Sciuto's farewell was not for the faint of heart. After 15 seasons, forensic scientist Abby (and actress Pauley) said goodbye after a traumatizing experience left her friend Reeves (Duane Henry) dead.
Season 16, Episode 13
amazon.com
Season 16, Episode 24
amazon.com
After years of believing she was gone for good, Ziva finally made a reemergence in the final episode of the most recent season. More great news? We'll apparently get to see more of her in the 2019 premiere as well!