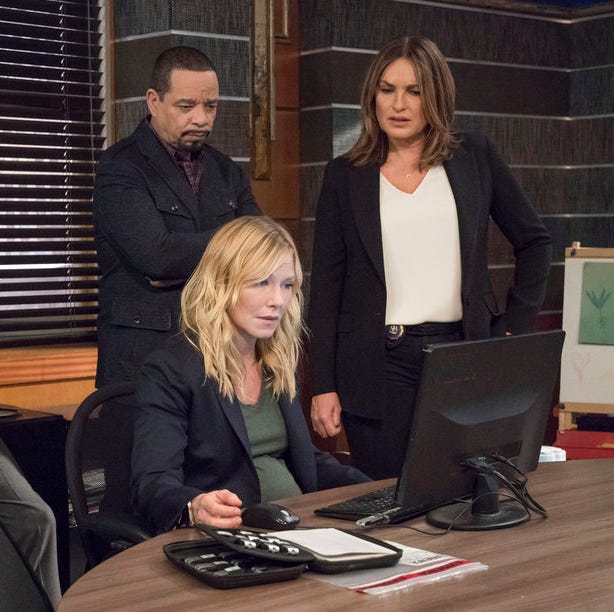 Law and Order: Special Victims Unit wouldn't be entering its record-breaking 21st season if it weren't a major television hit. The crime drama headed up by Mariska Hargitay has been dominating NBC since its debut in 1999, and has no plans of slowing down.
Of course, part of the reason it's so popular is due to its star-studded cast. Though some fan-favorites are no longer a part of the series (we miss you, Christopher Meloni!), many of the longstanding actors and actresses still play a major role in every episode.
Still, we have to say goodbye to characters from time to time. The latest farewell is to Philip Winchester, who played Peter Stone. Though he just joined in season 19, he announced in March he would not be reprising his role this year. "Sadly for me, Peter stone and his 'the facts don't care about you're feelings' attitude will not be returning. A huge tip of the hat to my amazing fans and not so big of fans. You ALL make me work harder," he wrote on Twitter.
That aside, we're hoping that's the only shakeup in store for season 21. Here's who's likely returning to Law and Order: SVU this fall.

Mariska Hargitay as Olivia Benson
Ice-T as Odafin "Fin" Tutuola
Ice joined the show in 2000, and has been a staple ever since. His original claim to fame was music, and his bio claims he "invented gangster rap." He started acting in the 80s, though, and he and his wife Coco Austin even had their own reality series, Ice Loves Coco.
Kelli Giddish as Amanda Rollins
Kelli has been on over 180 episodes of SVU, and Amanda Rollins is both a friend and sometimes a challenger to Olivia's strong opinions. You may also recognize the Georgia native from her appearances on Chicago P.D., The Good Wife, and All My Children.
Peter Scanavino as Dominick "Sonny" Carisi Jr.
Sonny is a detective with the Special Victims Unit, and can sometimes be a bit brash. That said, many fans are crossing their fingers for a romantic storyline between Carisi and Rollins (it could happen!). Peter is a somewhat new member of the team, as he joined the cast in 2013. Besides SVU, he's done brief stints on The Blacklist and The Leftovers.