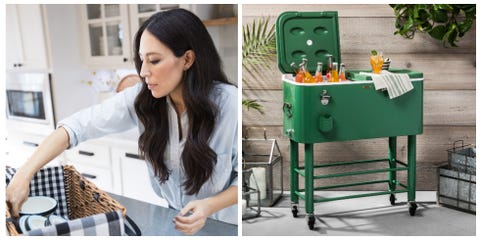 Summer is just around the corner, which means your schedule is about to be packed with graduation parties, barbecues, and family gatherings. Thankfully, Joanna Gaines is one step ahead of us and designed her new summer collection at Target to include tons of pieces that make summer entertaining easy. The new lineup includes everything you'll need this season, including outdoor games, picnic staples, and cookout essentials. Take a look at some of our favorite items, all of which are available right now.
Centennial Oak Painted Cooler
$100
Functional and fashionable, this vintage-inspired cooler is the one piece "I know Chip is excited about," Joanna told .
$15
Encourage your family to eat healthier this summer by storing one of these reusable fruit- or veggie-filled baskets at the front of your fridge.
$35
This sturdy basket is strong enough to hold everything you'll need to host a fun outing with your family. In fact, Joanna always keeps hers packed and ready for last-minute trips. "The picnic blanket and tote are two of my favorites from this collection—they're the perfect companions for a lunchtime getaway with the kids," Joanna told .
$35
No outdoor outing is complete without a soft blanket to sit on. Throw this easy-to-carry piece in your car to keep it handy for last-minute meals, football games, and beach trips.
$8
Say hello to your new summer cookout staple. This handy gadget will ensure your patties are shaped to perfection, giving you an evenly cooked and bun-ready burger every time.
Centennial Rolling Cooler
$140
This cute old-school cooler is a stand-out piece in the new collection and a must-have for any home with retro or vintage flair.
Grilling 4-Piece Tool Set
$13
Whether you're a grill master or cookout novice, this inexpensive set has everything you need to make all your family's favorite summer meals.
$100
This colorful set will make the perfection addition to your collection of summer lawn games.