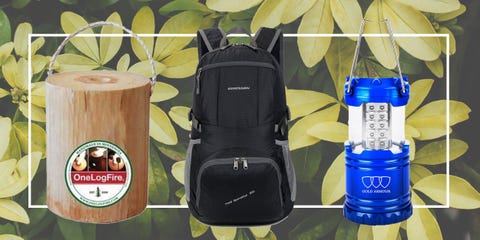 Ready to head to the beach or venture to your favorite national park for the ultimate camping trip? Don't leave home without making sure you have all of these camping essentials first. From practical safety gear to cozy comforts, this is the ultimate packing checklist.
$10
While there are plenty of bug sprays on the market, Permethrin is one of the few that's safe and thoroughly protects you from ticks and mosquitos. It's just as effective as DEET, but much safer for kids and stays on your clothes for up to six weeks.
RELATED: Why You Need to Lookout for "Seed Ticks" This Summer
$30
You'll be so glad you packed this lightweight folding chair when you're roasting marshmallows by the fire at the end of a long day.
$10 for 2-pack
These collapsible lanterns are easy to pack and let you control how much light they emit.
$49
Make sure all that wine you packed for your girls' weekend stays fresh with this easy-to-roll cooler.
$9
Because you can't head out for a weekend in the great outdoors without one!
$22
This compact 100-piece kit has everything you need to be prepared for the worst.
$23
Why tote around a bulky charcoal or gas-powered gadget when you can pack this lightweight over-the-fire grill?
$50
You'll find all the comforts of your home kitchen in this small kitchen kit that includes cutlery, whisks, a spatula, and a cutting board.
$8
This gadget features an axe, hammer, multiple blades, screwdrivers, and more in one hand-held piece. Just think of it as the Swiss Army knife of camping!
$66 for 6-pack
If camping isn't really your thing, you'll love this neat piece of firewood, which only calls for one match and lasts for two hours.
RELATED: How to Make a Swedish Fire Log
Starting at $18
When it comes to camping and hiking, saving on space is always a , which is why this inexpensive jacket is a go-to choice. You can easily roll up this hooded quick-drying jacket after a storm passes and be on your way.
Sleeping Bag with Pillows
$50
Waterproof, lightweight, and super cozy, this two-person piece is everything you want in a sleeping bag. Plus, it comes with built-in pillows leaving you with one less thing you have to bring.
$16 for 3-pack
For those hot summer days, you'll definitely need a canister (or two or three) of sunscreen for you and your family. This SPF-50 option is water resistant, so you can sweat and swim without worrying about sunburn.
$90
Make setup fast and easy with this simple, best-selling tent. In just 10 minutes, this easy-to-carry piece is ready to go, giving you and your family even more time to enjoy the great outdoors.
$11
This antibacterial, microfiber towel comes in seven different colors, which means you can avoid accidentally swapping towels at your campsite.
$45
With its collapsible design and built-in water filter, this is the water bottle you want by your side during your next outdoor adventure.
$10
If Mother Nature decides to wreck havoc on your trip, you'll be prepared with this versatile, waterproof tarp.