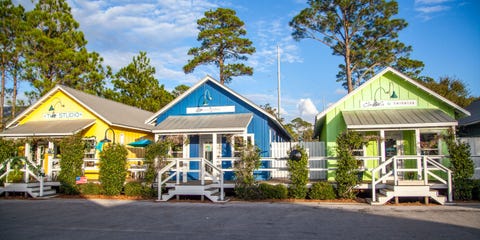 Courtesy of Visit South Walton
Pick any town below the Mason-Dixon line, and you're destined to find old-fashioned southern hospitality and charm. But pick any of the southern towns we've rounded up below, and you're destined to also find loads of culture, entertainment, shopping, and opportunities for relaxation—in other words, the perfect spot for your next weekend trip with your girlfriends.
While cities like New Orleans and Charleston usually get all the love (and we agree, they're great!), we think 2017 is the time to look beyond the usual suspects and escape to quirkier gems, like outdoorsy and artsy Knoxville, Tennessee or laid-back Lexington, Kentucky. Here, our favorite surprising southern destinations to book for a rollicking trip with your best sidekicks in the coming year.
Save these towns for a girls' trip down south for later! Don't forget to for more southern travel tips.
2
Bay St. Louis, Mississippi
Seaside allure gets muddled with artistic soul in this groovy southern town that you'd probably just drive right past on your way to New Orleans if you weren't in the know (most aren't). While in town, you can relax with your posse during a restorative class at , which offers just as much whimsical and free-flowing fun as its name might hint at. It would also be an excellent idea to sign everyone up for a day of TLC at , but if time is tight, take the road less traveled and opt for an unforgettable boat excursion, checking out the harbor and surrounding bayous, with the help of .
For more information, visit .
3
Blowing Rock, North Carolina
This is the North Carolina that small town mountain fantasies are made of. You could easily spend all day in a rocking chair, soaking up views of the lush wilderness, but we suggest hitting the road to check out the breathtaking vistas on the aka "America's favorite drive." Make a pitstop at renowned , for a quick but memorable visit to the craft center, before heading onto for some tasty grub and unreal mountain views. Rest your weary feet at —where your gang might have a hard time prying themselves away from the sauna—or at the elegantly restored . (Fun fact: Margaret Mitchell spent time penning Gone With the Wind there!)
For more information, visit .
4
Bowling Green, Kentucky
Groups looking for off-the-beaten path thrills will be more than satisfied with a weekend in this Bluegrass State prize of a town. You can finally use the word "spelunk" in everyday conversation as you tour the world's longest cave at (you'd never guess you're just an hour north of Nashville!). Then, you can make the kiddos back at home jealous when you and the ladies take some classic cars for a spin at the . Finally, enjoy a fun night out at the , where you can take a canning or baking class, or simply enjoy some live music at its "Pickin' on the Patio" event every other weekend in the summer. Slip into bed at the funky-yet-elegantly outfitted , which offers a cool Prohibition-era vibe.
For more information, visit .
5
Charlottesville, Virginia
Nestled in central Virginia's wine country, there's a million reasons you won't want to say goodbye to the (wine definitely being one of them, thanks to the resort's vineyard). Perhaps start your day with the 3 Bs—birdwatching, bocce ball, and badminton—and end your night in the energy-infused streets of downtown Charlottesville. Since there's likely still one or two Dave Matthews Band Crash-era devotees in your throng, raise a pint at (ask for the DMB brew), where Dave himself tended bar when the band's biggest shows were at UVA frat houses and the 900-person . (And you thought you were cool because you caught them on your local amphitheater's lawn back in '97...)
For more information, visit .
Call the luxurious and rejuvenating , located on the islands of Islamorada in the Florida Keys, home base for your next girls' getaway. (Islamorada means "purple islands," a name that will click upon arrival). There, you and the gaggle can indulge in the true joy that is the adults-only pool, book a treatment (or two) at the spa, and eat way too many sushi rolls at the resort's lauded Nikai Sushi Bar. Should you choose to take your retreat off-property, try backcountry skiffing with for some of the best sport fishing the country has to offer.
For more information, visit .
7
Columbia, South Carolina
Pulsing with a vibrant, artsy energy, downtown Columbia is sprinkled with enough bakeries, boutiques, restaurants, and coffee shops to set the backdrop for RGMs (Really Good Memories). Remember The Andy Griffith Show? This Palmetto State treasure emits a "Mayberry-esque" quality, despite its fast growth in recent years. Nest up at the where you can spend hours relaxing on the wide wrap-around porch and feeling far removed from the hustle of city life, even though you're only a few blocks from plenty of dining options and attractions, like the industrial . While in town, assemble the gals for an afternoon trip to West Columbia (it's a quick 10-minute jaunt across the river) where you'll find the , a two-level historic building that houses over 75 dealers with some of the coolest antiques, furniture, and vintage finds around. After, congregate at , a zany pour-your-own coffee bar, to dish about your vintage bounty.
For more information, visit .
Abandon any preconceived notions you may have about what spring break in Florida is like, and get ready to unwind on the picturesque beaches of Fort Myers and Sanibel Island. Fans of the culinary arts will be excited to sink their teeth into the incredible Peruvian-Argentinian-Italian fusion at or conquer the daunting yet delicious portions at , which specializes in homey, southern cooking. Then burn off all that grub by exploring Sanibel and Captiva Islands, which offer some of the world's best shelling (and have no buildings higher than a palm tree).
For more information, visit.
Worthy as a destination in itself, the in Point Clear is a gorgeous resort and spa tucked away on 550 sprawling acres along the Alabama coastline. Studded by 36 holes on its esteemed golf course and a member of the , the hotel was founded in 1847. It now offers outdoor and indoor swimming pools, an art gallery, and daily tea-and-cookie service in the lobby. Relax at the spa before heading to the daily historic cannon- firing ceremony (seriously!). As you stroll around the nearby town of Fairhope, you'll wonder why you didn't take an extra vacation day. Oh well, awaits...
For more information, visit .
10
Greenville, South Carolina
Ah, where to start? Food seems like a good place to kick things off in this epicurean haven, anointed one of the New York Times' . First, there are the oldies like (order a boozy milkshake) and . Then, there are the newbies, like (get a Bloody Mary on the side to wash 'em down) and , with a focus on seasonal, local ingredients. Ward off a food coma by heading over to for a reading, or to pick up some titles for an impromptu book club with your gals. , with its cascading waterfalls and scene-stealing gardens, seems like a good spot for the literary discussion, as do the grounds of the rustic , where you'll want to hit the hay early so you can squeeze in a group yoga class in the morning.
For more information, visit .
You know a day that starts with yoga on the beach and ends with harborside drinks with your besties before catching an outdoor Miranda Lambert concert is a good one. Here's how to make that fantasy itinerary a reality in this underrated beach town: First, book a session at , then reserve an outdoor table at , and finally, look up the concert schedule at (or, time your trip for the ever-popular ). Of course, you'll probably need a place to stay, so score rooms at , which has a lazy river and a bar with some of the best Bushwackers in town. Oh, and all roads should lead to the legendary at the end of the night, a beachside mega-dive with live music straddling the Florida-Alabama line in the happiest of boozy limbos.
For more information, visit
12
Hendersonville, North Carolina
Step aside, Asheville. This neighboring town, tucked away in the Blue Ridge Mountains, is worthy of bucket list goals, too. Satiate your hankering for a dose of the outdoors by hiking the nearby trails, or take a stroll downtown on the extra-wide sidewalks punctuated by benches, flowers and outdoor cafes. Book a few nights at the , which serves as a convenient launching pad for adventures to countryside wineries, massive East Coast brewery, and the famed , which regularly hosts Broadway shows. Another fun fact to share with your friends: The recent remake of Dirty Dancing was filmed in Hendersonville!
For more information, visit
13
Jekyll Island, Georgia
Whisk the group away to the pristine shores of beautiful Jekyll Island, a gorgeous state park that's protected from extensive development. At the Jekyll Island Club Hotel, book a (there's a yoga retreat; murder mystery weekends; and whiskey, wine, and wildlife adventures ... just to name a few) or build your own itinerary. Whatever you choose to do, make sure Victorian tea, a day trip to the , and a guided water tour with are all on your list. The property's regional southern Georgia cuisine is so good, expect to go on a grits kick for weeks when you return home.
For more information, visit .
Nashville may the first place travelers think to go when visiting the Volunteer State, but Knoxville makes for a spectacular getaway if outdoor activities are your group's thing. Start at the which offers moonlit paddles, disc golf, and mountain biking (among many, many more options). After working up a sweat, the city's downtown district has oodles of mouthwatering dining options, but we're partial to the idea of a welcome night feast at , where everyone will beg the chef for the pimento cheese recipe. After dinner, enjoy a nightcap at sophisticated speakeasy , which moonlights as a coffeehouse by day. Next, you can retreat to your chambers at , or find music and fun in . Just don't overdo it if the plan is to wake up early for rock climbing at the next day...

For more information, visit .
15
Lake Murray, South Carolina
Many people don't know there's 500 miles of undisturbed shoreline less than a half-hour drive outside of downtown Columbia. Many people are missing out. At this idyllic getaway, you'll find pristine views, hidden coves, and a glassy, peaceful lake that may just be the state's best-kept secret. Visit to rent a boat or kayak, and make a day out of lazing on the water, or pitch a tent at for a backcountry experience that offers ample opportunity to tackle trails via foot or mountain bike. Hungry? Waterfront restaurant provides solid grub. End your days at the old-school where you can peacefully count sheep before drifting off.
For more information, visit .
16
Lewisburg, West Virginia
Picture your dream antiques-themed Pinterest board. Now picture it coming to life in the form of a small-town Appalachian town. Welcome to Lewisburg. Wander through its antique stores and galleries, like the and (which houses over 600 labels of vino) before refueling on java at community gathering place, . Or, spend your bonding-time staying put in one place: , a sprawling historic resort which opened in 1778. If you're looking to stay closer to town, you'll be hard-pressed to find better lodging than the , which offers up authentic, nostalgia-stirring southern cooking that you won't forget anytime soon.

For more information, visit .
If you want to laissez le bon temps rouler New Orleans-style without having to deal with crazy crowds and steep prices, consider Mobile, the birthplace of Mardi Gras in America. Spend some time moseying around the waterfront's galleries and boutiques, under a charming canopy of oak trees, before taking a quick drive to famed . Then, ditch sea level for dinner at , perched high over the bay—34 stories up in the Trustmark Building, specifically—where you'll want to save plenty of room for a plate of the local Gulf shrimp. Make your home away from home , that is steeped in Dixieland elegance.

For more information, visit .
There's plenty here for history geeks (make a beeline to where Patrick Henry delivered his "give me liberty or give me death" speech) and live music fans alike (swing by for a show, and if you can, grab dinner at , which earns you early admission to the venue). And thrill-seekers won't feel left out, either, with the epic 52-mile to glide over via bicycle. If your group prefers to get their thrills in the form of stiff drinks, head to the up-and-coming Scott's Addition neighborhood, for an impromptu craft beer and cider crawl. For your accommodations, the recently opened offers everything you could dream of, including a rooftop bar and tours of the city's fabulous street art.

For more information, visit .
This storied Magnolia State town is sure to kick your wanderlust into full gear. First, its gorgeously preserved historical homes provide custom-curated tours for gal groups wanting a Gone with the Wind-inspired experience (don't miss the !). Second, you can live out your old-house fantasies by staying at the (which also offers a special girlfriends package), erected in 1904. Third, if all that down-home charm isn't enough to win you over, the "Knock You Naked" margaritas at certainly guarantee a good time. Soak up picture-perfect views at 's bar, where you can exchange toasts while watching the sun set over the Mighty Mississippi. Before you leave, swing by so you and the girls can nab some adorable clothing and loot for your kids, then treat yourselves to a final meal at the rustic , built in the late 1700s—you'll be dreaming about the wood-fired steak for months.
For more information, visit .
Swap your heels for hiking boots, and trek along the Appalachian Trail on where the fresh air is as soothing as the breathtaking views. But this Virginia city also offers ample indoor fun: Visit (home of DIY Network's Salvage Dawgs), catch a show at , or get inspired at the . The handsome may just become your annual excuse to plan a girls' getaway, thanks to the in-room spa services you can treat yourself to post-hike and its outstanding Sunday brunch.

For more information, visit .
21
Seabrook Island, South Carolina
This quiet, laid-back sanctuary makes relaxation a very pressing priority. Kick off your travels with some beachcombing, dolphin-watching or crabbing. If your gang is feeling ambitious, you can try a stand-up paddleboarding tour. If you're feeling less-than-ambitious, try lazing around at your (complete with ocean or tidal creek views). Other potential activities include visiting the , playing a round of pickleball, or a night out on the town in Uber-able Charleston.

For more information, visit .
Forget Miami and Fort Lauderdale—the 26-miles of sugar-white sand beaches in South Walton is the stuff Instagram gold is made of. There are plenty of eclectic seaside villages to choose from, but our pick is Rosemary Beach, with its black-and-white- trimmed boutique hotel . Note: Its rooftop restaurant, complete with firepits, hammocks, and ocean views, make it exceedingly difficult to leave. While in town, you and your group will also want to hit up some of the area's famed (these rare ecosystems only exist in a handful of other places, like New Zealand and Madagascar) for some stand-up paddleboarding and kayaking, or even birdwatching. If you prefer to balance all that beachtime with some on-land excursions, try a bike ride along the scenic 19-mile (you'll ride through quirky beach villages, state parks, and around dune lakes).
For more information, visit .
"SoIn," as folks have started calling this region, has been quietly gaining traction as a hot destination for eating, drinking, and being merry. New Albany, which is just five minutes from Louisville, Kentucky, has earned the name "Louisville's Brooklyn" thanks to a . Check out , a great option if your group likes sharing plates, and for fresh, Mediterranean fare. There's also which offers bourbon slushies! Feeling full? Venture to nearby Jeffersonville to cycle or walk over ,which connects the city to Louisville Waterfront Park. Need another reason to go? On the weekend of May 25th-29th, 2017 Jeffersonville will host , A Beatles-inspired fest with over 20,000 concert-goers. Reserve your rooms at the delightful now, and thank us later.
For more information, visit .
While many venture to better-known Berkeley Springs in West Virginia, there's a good reason this old coal mining town is on the rise. Rally the crew for a self-guided walking tour of its historic homes (Thomas has more than 50 homes and sites on the National Historic Register) before winding down at , a live music venue with homemade ice cream that you won't want to miss. Outdoor junkies should spend some time getting lost in , though just about anyone can benefit from its breathtaking views and fresh country air. Be sure to check yourselves into the funkily furnished for a mountain town vacation you and your girls will be reminiscing over for years to come.

For more information, visit .
25
Wilmington, North Carolina
Enter port city nirvana in Wilmington, a town that also offers plenty of beach hangouts, first-rate dining, and opportunities for active adventures. Escape the southern heat on a breezy eco-tour with , which are —hallelujah!— BYOB (you can buy drinks onboard, too). is also worth a visit since you may recognize the famed Victorian era-garden from TV or movies. And don't set your anchors aweigh before satiating your sweet tooth at beloved dessert spots like ., , and . (Note to self: pack stretchy pants.)

For more information, visit .
26
Winston-Salem, North Carolina
Between its 40+ local vineyards, celebrated (which houses a stellar collection of American art spread out over 60 rooms), and historic Old Salem, it's no easy decision to settle on how to spend your first day in this impressive town. Whatever you decide on, make sure to reserve time to eat at . Erected in 1816, its Sunday brunch may not have been a 19th century fixture, but the staff in period dress may just fool you yet. Come nightfall, slink into the sleek embrace of , situated in the Reynolds Building, which you may recognize as the prototype for Manhattan's Empire State Building. Another fantastic choice? The , a restored cotton mill from 1837 that utilizes the original structure's ceilings, wooden beams, pinewood lobby floors, and more.

For more information, visit .
You and your girls don't have to be horse aficionados find something fun to do in this historic city. The birthplace of bourbon offers drinking opportunities aplenty: Clink your glasses in the rapidly evolving Distillery District, at buzzy hotspots like , , (the bar is in the original break room for the old distillery), and (offering superb craft ice cream to soak up all that booze). Also worth venturing to: (pictured), the Bluegrass region's newest distillery with a female master distiller (the first in Kentucky since Prohibition!). On any given day, you can also bike awesome trails (try the ), shop artsy boutiques ( is a must), and yes, see plenty of stunning horses.
For more information, visit .