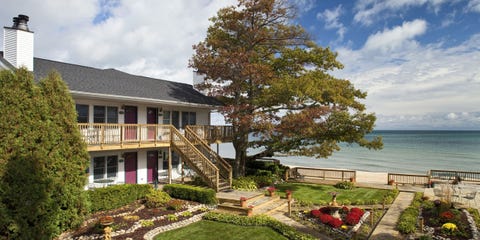 Christian Giannelli Photography
The midwest may be known for Chi-Town and other metro areas like Milwaukee and St. Louis, but if you're looking for a quieter, quainter getaway, there are plenty of enticing options. Don't mistake them for humdrum—these vacations are anything but. We've scouted the map for the most diverse and unique offerings the region has to offer, ranging from quirky lakeside retreats to gastronauts' dreams. Elkhart Lake, Wisconsin, or Ludington, Michigan, may not be on your radar—yet—but after a visit, you'll be singing their praises loud enough for both of those "other coasts" to hear. (Want ideas for below the Mason-Dixon line? Check out our 26 favorite undiscovered Southern gems.)
1
Elkhart Lake, Wisconsin
Blue-green Elkhart Lake casts a mesmerizing halo over the whole folksy, forget-your-troubles town. In winter months, discover homespun shangri-la at the ; snowmobile or cross-country ski the ; and take classes at . Summer offers race-car test drives and ziplining at famed , and lunch on the lake and spa treatments at . , which houses Aspira, is an out-of-towner favorite thanks to its lakefront location and roomy suites. Itching for a nightcap? Head to the historic for the German-inspired underground Ratskeller bar.
For more information, visit .
Home to the Indiana Dunes—a 15,000-acre outdoor playground of sprawling woods, beaches, and sand dunes—Chesterton offers an outdoor workout unlike any other with its 1.5-mile 3 Dune Challenge. Prefer an adventure for your tastebuds? Local standby features "sneaky cider" and "earl grey" cocktails and inventive burgers. For unforgettable digs, hole up at , a bed and breakfast fashioned from an old freight station, or, a restored mansion that will put you a skip away from the gorgeous shores of Lake Michigan.
For more information, visit .
Any day that takes you from breathtaking bluffs to beautiful boots ( is home to the world's largest boot) is a win. Start your itinerary by hiking the famed 340-foot (pictured) for incredible views of the Mississippi River and Red Wing. Afterward, satiate your appetite at , where the unique 'zas (tater tot hot dish, anyone?) wash down wonderfully with freshly-brewed root beer or craft brews. (Wine enthusiasts may prefer the sips and stunning sunset at ). If it's not nap time by then, , located in an historic (and still operating) train depot is worth a visit. Come nightfall, the 19th-century will give your girlfriends a picturesque place to recover before the next day's adventures.
For more information, visit .
The sprawling banks of the Ohio River are calling. Start on a playful note at (idea: Winner doesn't have to pay for dinner!) before heading to a truly off-the-grid experience in southern Ohio's "Little Smokies" at . Warning: It may be hard to peel yourself away from the lobby's panoramic views of Turkey Creek Lane. But, you should also take some time exploring the , where chirping songbirds and wildlife dot 42 miles of backcountry paths. After earning your dinner, indulge in the hearty grub at , though if tomorrow involves a boating or sailing excursion, try to resist a second serving of the fantastic spinach artichoke dip.

For more information, visit .
Attention, music aficionados: This enchanting getaway works hard to maintain its legacy from "The Day The Music Died" to present. Home to the , where musical greats Buddy Holly, Ritchie Valens, and The Big Bopper played their last shows, the town has a spirited music community evident in its annual 4th of July celebration and weekly . Book your group at the , offering guests unique themed rooms (Coca-Cola or sailboat, ladies?). Finally, no lake-cation would be complete here without a stop at for their delectable homemade sandwiches. Be sure to order double—one for now, and one for when your stomach growls later.
For more information, visit .
It's only a 45-minute train ride from downtown Chicago, but Lake Forest feels like English countryside. Take in the gorgeous architecture and some of the 446 acres of historic parks first before checking out the pristine, 3.5-mile stretch of Lake Michigan shoreline. Stay there for a beachfront, then catch a show at or . In town between June and September? Listen to live music at , the oldest outdoor music venue in North America. When you're ready to call it a night, the Old English-style manor , with its traditional service, will make you want to return for years to come.
For more information, visit .
7
Grand Marais, Minnesota
If local "barn hostel" and eatery don't give it away, this harbor village on Lake Superior is wildly creative. Indulge in a sweet treat at or beer-battered cheese curds and brews(made with water sourced from Lake Superior) at . Adventure fans will also find no shortage of stellar hiking and mountain biking trails. Meanwhile, for those seeking less of an adrenaline rush, you'd be hard-pressed to find a better place to spend an afternoon than , where courses cover everything from basketry and knitting to timber framing and sustainable living.

For more information, visit .
Os-what-a? You'll never ask that again after spending a few days in this hidden Lake Huron gem. Get into the maritime spirit with (if your group is on the larger side, consider a private charter) before visiting the beautiful . Or, brush up on your cross-country skiing skills on before journeying through and around Huron National Forest on the . However you choose to spend your days, make sure to spend your evenings at the award-winning . Unwind by the fireplace or catch up with your besties with your toes in the sand. Don't miss the B&B's croissant made with homemade caramel sauce — 4,136 layers of flaky perfection!

For more information, visit .
Over the river and through the woods, to Hocking Hills we go! This inviting, backcountry Ohio region features sprawling parks, welcoming locals, and awe-inspiring . Warning: Cell service in the area is iffy, at best, but consider this a boon for reconnecting with your gang. With activities like classes at the , you'll want to put your phone aside anyway. If the soaring rock faces, deep gorges, cascading waterfalls, and hum of the deep forest don't teleport you away from everyday stress, the restorative, almost-spiritual energy of the surely will. Don't miss the garden yoga classes and intimate spa tucked away in the woods.

For more information, visit .
In this historic city (and original state capital) on the southern tip of the Hoosier state, make the your stomping grounds — that'll put you a stone's throw away from (yes, really), the old-timey, locally-owned pharmacy that makes an egg cream and ice cream soda that will take you back to childhood instantly. Next, pick up a souvenir or two at where you can watch glassblowers at work, or , in case your partner could use a cleaning hint. Craving a hit of Indiana Jones adventure? Check out tours, where your group can gape at the stunning Crystal Palace, a mix of impressive stalactite and stalagmite formations. If chancing Lady Luck seems more apropos for your tale of "babes in the woods," is a stellar option.

For more information, visit .
Kansas's largest city has a lively , impressive restaurant selection, and more than 125 parks and greenways—why didn't Dorothy give us a clue sooner? Snap a pic at the flagship "" monument (pictured), before visiting mainstays like the peaceful and , a unique eatery at a private airport (as in, sit on the patio and watch aircraft land 20 yards away). Then hit up and for adorable animal gazing, kangaroo petting, giraffe feeding, and more. When it's time to hit the hay, has you covered, as does its bar, if you're in need of a jazzy piano lounge and a strong cocktail.

For more information, visit .
This booming food town just an hour south of Indianapolis has something to delight everybody's taste buds (even your -addicted friend who never wants to miss an opportunity to swoop up unique microgreens or small-batch tamales). Burn off your edible adventure at 's hiking trails and single-track mountain biking trails. Or, torch some calories dancing at back-alley music venues like and , which often hosts first-rate acts on the cusp of becoming famous. When it's time to turn in, the historic is known for its hospitality and outstanding traditional breakfast. If your prefer total seclusion, the rustic are the kind of thing group rental dreams are made of.

For more information, visit ,
If cheese, sailing, biking, and more cheese sounds like something your friends could get behind, look no further than this unspoiled town on the shores of Lake Michigan. First, there's , a Wisconsin icon since the 1940s devoted to all things dairy. Next, visit the quaint lakefront to check out the sculpture walk or ride electric street cars. Craving more activity? Take a spin at the 90-year-old , the nation's oldest cycling track of its kind. There's plenty of nostalgic dining in Kenosha, but , the oldest continuously operating lunch car diner in America, and , a 1911 soda fountain, are excellent starting points. Unwind at the delightfully retro-feeling , where you'll feel like you've landed in a vintage TV show. Fun fact: , frequently ranked the first in the USA, celebrates its 30th this year. If that's your party's cuppa tea, book your trip between July 8 and September 4.

For more information, visit .
This bicycle-friendly, fireplace a'flickerin' town is sprinkled with top-notch breweries and some of the best theaters in the Hoosier-verse. Start at , where taps are updated daily and may include hits like Strudel Cake and Roasted Peach Impediment. Next, you and the sidekicks won't be disappointed with a live performance at The Palladium at the . Nor will you regret snoozing at , where you can sprawl out on your patio, beside the fireplace, or just laze in bed with a book (and delightful breakfast). Once you're feeling restored, may we suggest hiking or biking the 18-mile stretch of the ?

For more information, visit .
Thrumming with energy, this design-centric locale is only 10 miles out of downtown Chicago. With 2017 marking the 150th anniversary of Frank Lloyd Wright, it's the perfect time to tour before a stroll around the village to see examples of the architect's signature Prairie School-style. Once you and the crew have wrapped nerding out on the world's largest collection of FLW architecture, continue riding that intellectually-inspiring wave to to scope out rare artifacts from the writer. Then, fuel up with classic Parisian fare and seafood at . Upstairs, count your sheep in the antiques-packed, 1920s ambience of , before enjoying dinner on the patio at (suggestion: fresh guac and their signature "pickanna" margaritas).

For more information, visit .
16
Door County, Wisconsin
"The Door" is an oft-overlooked Wisconsin jewel with 300 miles of gorgeous shoreline known for its cherry trees and 11 lighthouses. Savor vino during a tasting at(check out the Frozen Tundra Wine Fest in the winter), before treating yourself to a relaxing, narrated tour with . No trip to the Door is complete without a traditional Wisconsin fish boil, and there's no better place to do it than , which conveniently offers so you won't find your crew wandering aimlessly around the waterfront thinking, "Shoot, there's no Uber across the water..."

For more information, visit .
17
Park Rapids, Minnesota
The headwaters of the Mississippi River beckon from this northern Minnesota gem, where you can fulfill your cabin fantasies shopping for rustic decor on or slipping away to a secluded lakeside retreat. Our favorite digs? The , situated on 160 acres in the woodlands and featuring double-whirlpool tubs and fireplaces in every room, free paddle boarding and kayaking in season. Nearby is home to an incredible array of wildlife, but if you'd prefer to spend your day in craft and quilt stores-browsing nirvana (aka Main Street), at least break for lunch at , "where you're a stranger only once." That's pretty much true anywhere you'll wander in this town of around 3,900 people.

For more information, visit .
When the sun goes down, your clique will light up at discovering the , a 1920s-style speakeasy with only five seats. From there, we recommend for its duck confit pizza. From there, skip the lines at (you can always return to the amusement park with the kids on another trip) for an adult excursion to , a swift ferry ride away, and a veritable Lake Erie sparkler. Trivia: It's where Commodore Perry proclaimed "We have met the enemy, and they are ours," in the War of 1812, and there's a giant 352-foot monument in his honor. More trivia: If you pass on a visit to , the oldest functioning lighthouse on the Great Lakes, and a stay at on the waterfront (celebrate the happiest of hours with bay views on the rooftop bar), you're doing this Buckeye State-charmer wrong.

For more information, visit .
This town embodies that Mary Poppins charm at every turn—no wonder it's called Michigan's "Art Coast." The charismatic on Lake Kalamazoo infuses that same loveliness into your sleeping quarters, fashioned out of the only original mill that remains from the region's popular lumbering era. The fam back home will surely be jealous of a day spent at , where you can embrace your inner-child as you corn maze and hayride your day away. Though our top pick is embracing your inner-Matisse at or the . Saugatuck is also home to , considered the best sandy strip in the Midwest.

For more information, visit .
Any city that has its own is reason enough for us to pack our bags. But in case your friends need further persuasion, try this: 1) , an old-fashioned drive-in with hot dogs, root beer floats, and all the classics. 2) , a farmhouse shopping hub full of repurposed furniture and accessories. 3) Serene kayaking and canoeing down the . 4) , where the billiard room and parlor may just distract you from forty winks. But, above all, did you remember to tell your friends there's an enchanted pathway with 227 years of donut-making?

For more information, visit .
A small town that puts you at the cusp of many natural wonders, we'll be the first to admit "doing" is not the focus here. If you want to focus your BFF getaway on just "being," however, book rooms at with 4,600 lakeside acres. Nearby, the 10,000-acre preserve Dogwood Canyon Nature Park and Ozarks Heritage Preserve (, the ) will get you back to nature in no time. Or, get the catch of the day firsthand at with the help of professional fishing guides. Our personal favorite involves focusing on that whole being thing by enjoying the Ozarks' wilderness and the scene-stealing views at . Five Bass Bait cocktails, coming right up...
For more information, visit .
Enter the equal parts scenic-and-quirky river town that is Alton. Here, get the crew to peddle down along the great Rivers Scenic Byway and Mississippi and Illinois Rivers. Then, reward yourself with shopping on "," home to more than 40 antique and specialty shops. On your way back to B&B (book the cave for a real treat and cozy fireplace!) swing by the impressive , a massive painting etched onto a giant bluff. Your gang will thank you later if you book at least one meal at the eco-friendly , which serves all-organic brewskis.

For more information, visit .
Breathtaking sunsets and bonfires? How about historic lighthouses and 28 miles of gorgeous beaches? How about...all of the above, a ride on the last coal-powered steamship in the country (the 1950s-era ). That's Ludington for you. Carb load at , a beloved Michigan chain started by police officers and housed in the 1898 McDonald's Bakery, before tackling the trails galore at . Continue the sugar rush at , a third-generation family-owned ice cream parlor with a 1950s theme and 30 different scoops of goodness. When you start to crash, forge a path towards in Manistee National Forest, with accommodations ranging from a one-bedroom cabin to a nine-bedroom lodge.
For more information, visit .
Yes, like the one in Ohio (there's a Nashville, Indiana, too!), but with a much, much smaller population and completely different vibe. The town is known for its collection of modern architecture from "Starchitects" like I.M. Pei (who designed the Louvre Pyramid in Paris) and Eero Saarinen (of St. Louis Arch fame). Geek out with the or mosey on over to , a pristine example of midcentury modern design. is an absolute yes on your checklist where the bacon-wrapped dates taste *almost* as good as Aunt Linda's. To keep most of your trip on two feet, grab some rooms at , a centrally-located boutique hotel with bold, colorful decor.

For more information, visit .
Yes, it's home to to the world's only post office with St. Nick's name, but there's a lot more to this southern Indiana town than Christmas lore. Enjoy cozy vibes at , where everyone's daily chorus will be "Can we please never leave?" But leave you shall, whether it's a swift walk to the Ohio River, or a longer detour to the pastoral . You could easily spend a week here without running into any elves, but if that's your thing, may we suggest visiting during the holidays when you can treat yourself to warm-the-heart parades, candy castles, and a drive-through holiday light show?

For more information, visit .