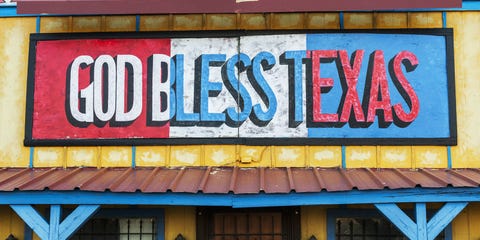 Welcome to Texas: one of the best states for road tripping, where the highways stretch for miles and the summer heat is sweltering. While Texas is home to some of the biggest cities in the U.S., there are some hidden gems along the backroads that you won't want to miss. So put on your boots, and get ready to say "Howdy, y'all" to these small Texas towns!
If you're driving along Route 66, be sure to make a pit-stop in Amarillo, where you'll find , home of the 72-ounce steak. And if you're in the mood for something quirky, check out the roadside art attraction , featuring 10 graffiti-covered Cadillacs.
About 23 miles west of Austin, you'll find the town of Dripping Springs, where you can take a refreshing dip in the , a picturesque swimming hole that was created thousands of years ago after an eroded underground river collapsed.
If you're looking for the perfect spot for a girls' getaway, Fredericksburg is a great home base for visiting some of the best wineries Texas has to offer. The Texas Hill Country region is home to more than 45 vineyards, including favorites like and 16 others that are all a part of the local winery association, .
It might seem unlikely that a Prada-themed art exhibit would exist in the middle of nowhere, a.k.a. , a city with less than 2,000 people, but that's exactly what has made this little town so famous. The 2005 Prada Marfa exhibit is a one-room, stucco replica of a real Prada store designed by artist duo Michael Elmgreen and Ingar Dragset. It's become a cultural landmark for the tiny town,with all kinds of visitors, including celebs like Beyoncé, passing through just to see it.
Ask any Texan, and they'll tell you the Dr Pepper you can get in Dublin, where the drink originated, is the best kind they've ever had. For more than 120 years, has been bottling sodas, and it's the company's Texas-made Imperial pure cane sugar that makes their Dr Pepper so special and sweet. While the company no longer bottles Dr Pepper, you can still taste the soda at .
As the only established town on Mustang Island, offers plenty of family-oriented activities, including visiting several local beaches, fishing on the Horace Caldwell Pier, and visiting the .
Only 13 miles from Fredericksburg, is another must-see Hill Country town. You can still visit its oldest building today—it's a combination of a general store, post office, and a saloon, which opened in 1886, a few decades after the town was established as a trading post in 1849.
Visit the border town of one of the oldest border crossing points that sits on the north bank of the Rio Grande River. In the heart of the downtown historic district, don't miss visiting the Cathedral of San Augustin, which dates back to 1872.
Whether you're just passing through the quaint lake town of Marble Falls or you're making a weekend visit of it, you have to stop by , especially for its pie happy hour. When you've had your fill of delicious pie, make sure you get plenty of R and R at Lake Marble Falls or even Lake Lyndon B. Johnson.
If you've never been floatin', grab your inner tube because New Braunfels is a good place to start. Relax while floating down the Guadalupe River, or you can visit the if nature's not your thing.
Saying you've visited , located at the southernmost tip of Texas, is an accomplishment in and of itself, since the state is so large! While you're there, don't forget to visit the beautiful historic downtown on Elizabeth Street.
If you've always wanted to visit a real-life ghost town, you've come to the right place. Terlingua, often referred to as , is a former mining community, part of the Study Butte-Terlingua group of communities in Big Bend Country, near . There's plenty of abandoned buildings to explore, left behind by miners after they fled when the mercury market crashed in the mid-1800s.