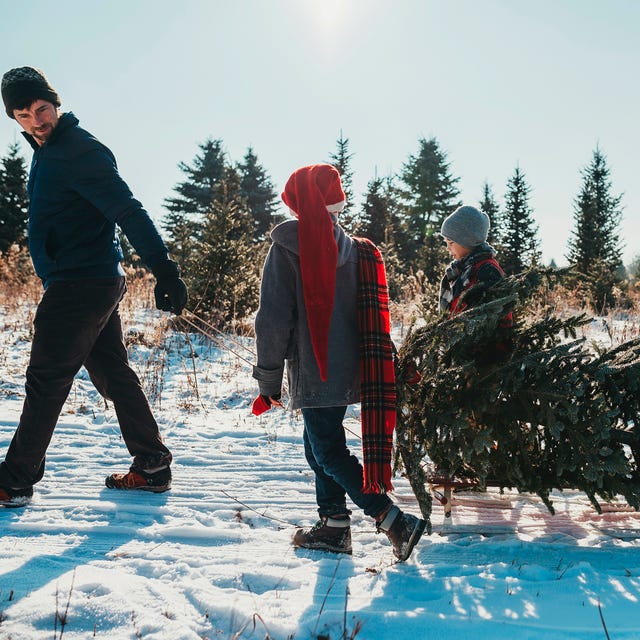 Even artificial Christmas tree fans might be convinced to try out the real thing this year after browsing through our list of the best Christmas tree farms across the country! From Virginia to North Carolina to Florida and beyond, there are so many incredible farms out there to visit. And even if you're not planning on purchasing a tree, the experience alone is worth the trip (particularly if it involves one of our favorite Christmas destinations). After all, the trees themselves are just the tip of the iceberg when it comes to reasons why your family will enjoy a trip to your local Christmas tree farm.
There are usually several other attractions to check out within each location, like Christmas shops, Santa meet-and-greets, Christmas card photo opportunities galore, and even festive hotels on-site. Or perhaps you've just got little ones and have been busily searching "Christmas tree farms near me"—in which case, you're also in the right place. You won't believe how their eyes will light up when they're face-to-face with thousands (yes, thousands!) of Christmas trees—way before you've added the homemade ornaments. Take the Moose Apple Christmas Tree Farm in Berryville, Virginia, for instance: It's got a whopping 25,000 trees and counting. A veritable Christmas tree forest!

1
Evergreen Christmas Tree Farm
Where: Millbrook, New York
If you're looking for a gorgeous Douglas Fir, Fraser Fir, Norway Spruce, or White Spruce, you've come to the right place. Evergreen also sells pretty balsam fir wreaths that smell just as good as they look.
PLAN YOUR TRIP
2
Piper Mountain Christmas Tree Farm
Where: Newburgh Village, Maine
Piper Mountain is a true winter wonderland. They've got carolers, a horse-drawn carriage, and doughnuts and cider to accompany your tree selection process. Oh, and that stunning red barn too.
PLAN YOUR TRIP
Where: Summerdale, Alabama
Live animals, camel and pony rides, train rides, a Christmas bounce house, and Santa sightings are just a few of the reasons you might consider heading to Fish River this year. They've also got cabins available for you to stay in right there at the farm.
PLAN YOUR TRIP
4
Wyckoff's Christmas Tree Farm
Where: Belvidere, New Jersey
Nope, your eyes aren't deceiving you—that's a purple tree! Magenta beauties are commonplace at Wyckoff's Christmas Tree Farm in New Jersey.
PLAN YOUR TRIP
5
Wonderland Christmas Tree Farm
Where: Pea Ridge, Arkansas
This beautiful, 38-acre family-owned farm offers more than just Christmas trees (and an adorable name). A country-style hayride, local food vendors, and a "letters to Santa" experience double the fun—and don't forget to stay warm and cozy with their hot chocolate and Christmas cookies.
PLAN YOUR TRIP
6
Spring Valley Family Tree Farm
Where: Troy, Idaho
Spring Valley Tree Farm knows you can't go Christmas tree shopping without some cocoa to keep you warm. They offer complimentary hot chocolate (and coffee!) as well as cookies that you can enjoy while you check out the foliage.
PLAN YOUR TRIP
7
Grandma Buddy's Christmas Tree Farm
Where: Sebastopol, California
Beautiful Douglas Firs tower above a mini Christmas village in this beyond charming, four-acre farm (complete with a Victorian farmhouse). Fun fact: Pottery Barn has used this place as a backdrop for shoots before!
PLAN YOUR TRIP
Where: Shelton, Connecticut
Let's just say the Jones family knows how to do Christmas. Their 200-acre farm is teeming with trees, but they've also got a ton that are already cut if you'd rather not stay out in the cold too long.
PLAN YOUR TRIP

Where: Warwick, New York
Come for the trees, stay for the entertainment! Emmerich has wagon rides, free hot chocolate, and a wooden ornament is included with your tree purchase.
PLAN YOUR TRIP
10
Moose Apple Christmas Tree Farm
Where: Berryville, Virginia
With more than 25,000 trees in seven different varieties grown at this 33-acre farm, you'll have plenty of options to choose from. While you're there, swing by their Christmas shop, or meet up with Santa, who often stops by for visits on the weekends.
PLAN YOUR TRIP
11
Grant Christmas Tree Farm
Where: Grant, Louisiana
Located in the heart of Louisiana, Grant Christmas Tree Farm is one of the most popular spots around. Choose from six varieties grown on site, in addition to Fraser Firs, which are shipped in from North Carolina just after Thanksgiving.
PLAN YOUR TRIP

12
Hollow Creek Tree Farm
Where: Gilbert, South Carolina
Imagine your pretty Christmas ornaments on one of the 11 varieties at the 20-acre Hollow Creek Farm, including Concolor fir, Fraser fir, Leyland cypress, Murray cypress, Carolina Sapphire, Blue Ice cypress, Virginia pine, white pine, red cedar, Deodar cedar, and Thuja 'Green Giant.'
PLAN YOUR TRIP

13
Boyd Mountain Christmas Tree Farm
Where: Waynesville, North Carolina
This 130-acre tree farm has been in the Boyd family for more than 100 years. At Boyd Mountain, you can cut your own tree, buy pre-cut trees, and even stay on-site in the restored log cabin rentals.
PLAN YOUR TRIP

Where: Elgin, Texas
At Evergreen Farms, expect to see several types of trees including Virginia pine, Leyland cypress, and Arizona cypress. The farm provides all the tools required to measure and cut your trees so that you have a stress-free visit.
PLAN YOUR TRIP

15
Plantation Pines Christmas Tree Farm
Where: Tyler, Texas
Plantation Pines typically offers two varieties of fir trees including Virginia pine trees and Fraser fir trees, in addition to Leyland Cypress Trees.
PLAN YOUR TRIP

Where: Nicholson, Georgia
Named after the original owners' seven children (Gail, Greg, Gloria, Gary, Greta, Glenn and Gina), 7 G's includes more than 6,000 trees on 25 acres.
PLAN YOUR TRIP

17
Bluebird Christmas Tree Farm
Where: Heiskell, Tennessee
Did you know Fraser firs are considered the Cadillac of Christmas trees because they have the best aroma and keep their dark green color for longer than others? Bluebird offers Frasers as well several other tree varieties including Leyland Cypress, which is seen in the photo.
PLAN YOUR TRIP

18
Old Time Christmas Tree Farm
Where: Spring, Texas
Take a hayride out to the fields to cut your own tree at Old Time. After finding the perfect holiday centerpiece, your kiddos can get their picture taken with Santa.
PLAN YOUR TRIP

19
Romance Christmas Tree Farm
Where: Romance, Arkansas
This farm will pre-tag your tree free of charge, so you can reserve it as early as October 15. And when you're ready to take it home, Romance Christmas Tree Farm wraps it up in festive red and green netting so that it stays safe and secure on top of your car.
PLAN YOUR TRIP

20
Thornhill Christmas Tree Farm
Where: Pisgah, Alabama
Make visiting Thornhill an annual family tradition. You can cut live trees starting at $8 per foot, and while you're at it, pick out a fresh wreath to decorate your front door.
PLAN YOUR TRIP

21
Santa's Christmas Tree Forest
Where: Eustis, Florida
You might not find the real Santa at Santa's Christmas Tree Forest, but you can get a gorgeous Christmas tree among its 16 acres. The family-owned Florida farm also offers other family activities including zip lines, barrel tram rides, and a giant bounce pillow.
PLAN YOUR TRIP