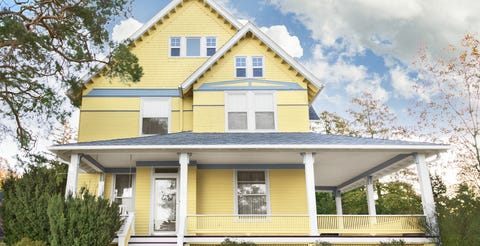 These perpetually bright properties offer up eternal sunshine—and they're all for sale.
Old meets new inside this freshly renovated three-bedroom, three-bathroom Cape-style house complete with custom wide-plank floors.
Agent: Tiffany Howard;
Listing Price: $299,000
The facade of this restored five-bedroom three-bathroom country home may be bright, but the mature gardens—with more than 68 varieties of shrubs and trees—offers plenty of shade.
Agent: Page George;
Listing Price: $379,000
Bring your horses! In addition to the five-bedroom, four-bath farmhouse, this property includes 20 private and partially fenced acres and a classic red barn.
Agent: Jana Nors;
Listing Price: $335,000
Cozy features inside this four-bedroom, two-bathroom home include a living room fireplace and a built-in dining room hutch dating back to 1770.
Agent: Joann DeRaffaele;
Listing Price: $314,500
Charming details abound in this six-bedroom, two-bathroom Victorian home, including antique hanging lights and floors with original tiles.
Agent: Aaron Bircher;
Listing Price: $144,900