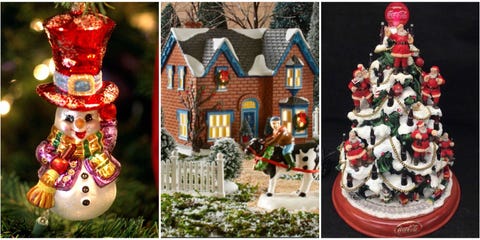 From Christmas villages to holiday plates, nutcrackers to elaborate ornaments, you probably have some pretty iconic treasures hiding in your attic. Here are some of the most popular Christmas collectibles of all time, and how much they go for today.
1
Spode Christmas Tree Dinnerware
$248 for 30-piece set

Dress up your dining room hutch, dinner table, or kitchen with this festive collection of kitchenwares that's been around since 1938. You can begin collecting with a new set, starting at $87 on , or search for bygone beauties on .
2
Department 56 Christmas Villages
For 40 years, Department 56 has been lighting up our homes for the holidays with their iconic Christmas villages. Nowadays, there are tons of collections to admire including the Dickens' Village series, the Coca-Cola-inspired assortment, the Downton Abbey group, and much more. Choose from , or new items online at .
3
Lenox Christmas Ornaments
$95 for set of 12
Known for their hand-painted fine china ornaments in simple and elegant styles, along with their offering of iconic characters (Mickey Mouse, the Peanuts, and more), these ornaments are timeless treasures. The 128-year-old company is also known for their gorgeous holiday china patterns. Grow your assortment with new ornaments starting at $10 at , or thrifted versions on .
$175 for set of 15
It wouldn't be Christmas without these quirky characters gracing our mantels, tabletops, pianos, and more. Figurines start at , and .
$90
While you could scoop up similar, generic versions at , the original and recognizable Steinbach nutcrackers are all handmade in Germany and have a rich history that dates all the way back to 1284. Vintage nutcrackers start at just $10 on eBay while new ones go for .
$240
There are so many ways for Coca-Cola collectors to decorate for the holidays—ornaments, villages, signage, glasses, bottles, stockings, tabletop and mantel decor—but we can't forget the iconic polar bears and Santa Claus items, as well. Some of the most popular and valuable items are the oldest with '40s-, '50s-, and '60s-inspired imagery, so search for the oldies if you want a big-ticket collection one day. Decorate your home with finds starting from .
7
Christopher Radko Ornaments
These handcrafted glass ornaments may be on the pricer side, but their lasting beauty and artistry and make them popular with Christmas fanatics. Deck out your tree with these ornaments with options .
$90
Ever since 1964, kids and grownups alike have made their way to the brand's roadside stores to pick up the latest green-and-white truck. Nowadays, original versions can sell for while the latest offerings typically sell for around .
Abby Hoppen, the owner of this Christmas-y farmhouse, compiled her collection by thrifting at estate sales. You can pick up these jolly creatures in thrift stores or on .
10
Bing and Grondahl Christmas Plates
$5
Clad in the signature shades of cobalt blue, each pretty plate features a whimsical winter or Christmas scene. Collectors willing to shell out big bucks can purchase the original plate, which was released in . Less expensive options can be found on or .
Christmas figurines and tchotchkes can be found in craft and thrift stores, country markets, and estate sales. Because of the large variety out there, they can be scooped up at all different price points. Start your collection with fun finds on , or these modern ones inspired by popular '50s and '60s versions for $30 at .
BUY NOW: ceramic elves trio ($30, ); deer figurines trio ($30, )