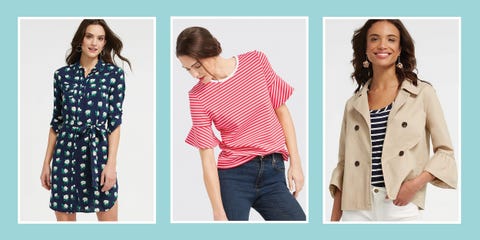 We were already big fans of Reese Witherspoon's fashion brand (hello magnolia prints, scallop trims, and cheeky expressions!), but these days we're loving it for a brand-new reason—its affordability.
Last month, Reese announced the brand would soon be offering a range of pieces at lower price points, and that time has come! This week, Draper James dropped its new "." It's full of fun items, nearly all of which cost less than $100, from breezy dresses you'll want to live in all summer to timeless jackets you can throw over just about anything. Here are some of our favorite items.
Belted Magnolia Shirtdress
$98
Show off your southern pride with this easy-to-wear dress.
$98
This extra sweet denim skirt pairs perfectly with everything from sweaters and blouses to casual t-shirts and tanks.
$58
This versatile shirt is soft and comfy, but looks like dressy piece you could wear to church or work.
$98
Thanks to its cropped sleeves, this jacket is perfect for in-between seasons. Plus, the inside is lined with Draper James' signature magnolia flower print.
$75
Lounging around the house, brunch with girlfriends, casual get-togethers—we're going to wear this everywhere.