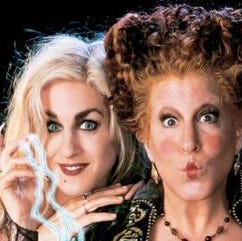 Grab your two best friends, a cauldron (for collecting Halloween candy, of course!), and some really good wigs: We've rounded up the very best Hocus Pocus costumes so you can put a serious spell on your fellow trick-or-treaters this year. These outfits are just the thing for running amok (amok!) in on October 31 (and they're sure to inspire some fabulous Instagram captions too). Believe it or not, it's actually been over two decades since the Halloween movie first premiered—but the film's popularity hasn't died down at all. In fact, if anything, it's even more relevant now that it's a throwback classic witch movie—and we have a feeling you won't be the only ones opting to dress up like one of the Sanderson sisters this year. With costumes available for kids, tweens, and adults alike, there's something here for everyone. And for the die-hard Hocus Pocus superfans out there who have every sentence of the movie memorized, you'll be pleased to know that the level of attention to detail here is outstanding. These Hocus Pocus Halloween costumes feature wacky wigs, cascading capes, and other true-to-the-movie elements that'll satisfy any eagle-eyed fan. After all, if there's one thing this witch family values as much as immortality, it's accessorizing. Now only one difficult question remains: Which one of the Sanderson sisters will you be?
If you're not sure whether you want to DIY your costume or go the store-bought route, this is a great option. Compromise with a dramatic dress, then customize with homemade accessories (like a broom, for instance!).
You can't possibly hope to play the part of "witch" without a broom to call your own! We love the topsy-turvy look of these ones.
Winifred Sanderson Adult Costume
spirithalloween.com
$49.99
Born leaders, take note: You can helm this coven of hilarious witches by embodying eldest sister Winifred.
Winifred Sanderson Adult Wig
If you're hoping to go as Winifred this year, you'll need a red, curly wig. This one's nearly identical to the one worn in the movie.
Mary Sanderson Adult Costume
spirithalloween.com
$49.99
Winifred's nothing without her sidekick sister, Mary. Add a vacuum cleaner for bonus points.
Spirit Halloween
amazon.com
$19.99
You'll look exactly like the Mary we know and love with this funky wig. Braids, wiring, and purple strands unite for a look that's memorable and a little "off" in all the right ways.
Sarah Sanderson Adult Costume
spirithalloween.com
$49.99
More of a lover than a fighter? We get it—and so does Sarah Sanderson, the youngest (and daffiest) sister.

Get Sarah's long, wavy tresses she loves flipping around with this blonde wig.
Finish off your costume with a pair of purple-and-black shoes. Featuring pointy, upturned toes and whimsical, curved heels, they're bound to make your fellow partygoers do a double take.
spirithalloween.com
$49.99
Don't leave any other friends out of the fun! With this downright creepy (but super low-commitment) mask, someone can play the part of lovable Billy Butcherson.
Winifred Sanderson Tween Costume
spirithalloween.com
$44.99
"Oh look, another glorious morning. Makes me sick!" What tween wouldn't want to take on the role of Winifred? She gets all the best lines.
Mary Sanderson Tween Costume
spirithalloween.com
$44.99
If you're the middle sister in real life, it'd be fun to dress as middle sister Mary too.
Sarah Sanderson Tween Costume
spirithalloween.com
$44.99
Sarah Sanderson may not be the leader of the pack, but she certainly makes a name for herself in the film.
halloweencostumes.com
$39.99
This miniature Sanderson-approved costume will go over well with your youngest kids. And the extra curved detail on the broom is simply magical.
halloweencostumes.com
$29.99
Hocus Pocus isn't a true "scary movie" by any stretch of the imagination. Still, a sparkly tulle skirt will keep things lighthearted and age-appropriate.
The way we see it, you're never too young to start appreciating hilarious movies. Let your babies in on the fun with this sweet get-up—hat included!
spirithalloween.com
$7.99
Sure, they're a little evil, but the witches of Hocus Pocus sure know how to accessorize. Take a cue from their ravishing jewels with these oversized rings.
I Put a Spell on You T-Shirt
The best Halloween costumes are the ones you can rewear, over and over again, for the rest of October—if not the rest of the year. This tee nails it.